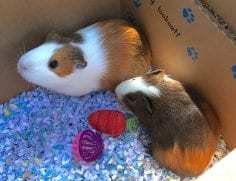 Ten-month-old Snickers, a tricolour guinea pig, was surrendered to the BC SPCA West Vancouver Branch on April 16, 2017, because her family could no longer care for her. She was pregnant at the time of surrender, so on May 13, she gave birth to a female guinea pig we named Peanut.
After a short time in one of our foster homes, mother and daughter were adopted together. On June 11, their new guardian, Maddie, gave them a new home and their new names, Cookie and Daisy.
Here's a letter from Maddie telling us how they're doing.
Hi, my name is Maddie Partridge and on June 11, 2017 I adopted two wonderful new additions to my family. I was 11 years old and in grade six.
I had two goldfish when I was younger which was the closest thing to a pet that I had ever had. In my school we were doing fundraisers for the BC SPCA and after all the fundraising I got to tour the shelter with my class.
I was very excited when I entered the Surrey shelter's main building and saw two adorable little animals which I later found out were two male guinea pigs named Eddie and Monty. I was asking questions about guinea pigs as much as I could. I fell in love with guinea pigs from then on.
When I got home from school I was so determined to get guinea pigs that I made an elaborate poster about guinea pigs and all the 10 reasons why I should be allowed to get them. When my parents came home from work I sat them down and talked to them about getting a guinea pig and showed them my poster.
About a week later they finally agreed. We went to the BC SPCA website and found two adorable guinea pigs up for adoption in West Vancouver. They were a pair of female guinea pigs. I remember how happy and overjoyed I was when we went on the long car ride from Surrey to West Vancouver. When we arrived my dad said that I was shaking I was so nervous.
When we walked in I got scared because I didn't see them at first glance,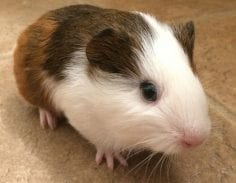 but then when I looked around the room I saw a small cage placed on the floor with two domes inside. I was told I could lift the domes to take a look at my future pets.
I opened the top up and saw a tiny little baby guinea pig who seemed terrified of me. I was so excited and tried to interact with them as much as I could for the time I was there.
We were only expecting to look at them and decide if they were the "ones" for me, but to my surprise I ended up taking them home that day. I remember vividly walking out of the shelter with a cardboard box with two bundles of joy inside.

I took them home and I've been glued to them ever since. I feel like they are happy because they get a full run of my playroom and get let out every morning to play and then get put back in the cage at night.
I decided to name my guinea pigs Cookie (Snickers) and Daisy (Peanut),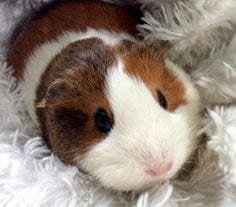 because Cookie sort of reminds me of the Cookie Monster and Daisy just reminds me of something sweet, like a flower.
Cookie had a lot of trouble fitting in to her surroundings and was very very timid. She would often not come out and hide whenever she heard any noise, while Daisy fit right in and was comfortable with us in no time.
They both have very different personalities but they are great friends, even though they are mother and daughter. Cookie is currently 15 months old and Daisy is eight months.
They both learned to stand up for any type of food, specifically lettuce. They also learned on their own to sit by the edge of the couch when the know dinner is coming, then they run to the edge of the gate blocking the door and start squeaking at us.
They are both becoming much more comfortable and I look forward to many wonderful years with them!
-Maddie
12 years old
We're so glad that this sweet mother-daughter pair found such a good home. We know you're going to be the best mom to these guinea pigs, Maddie. A big thank you to you and your parents for choosing adoption as your first option.