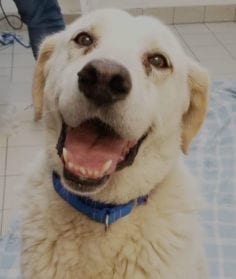 If you like stories with a happy ending, then the story of Conrad is for you.
This noble Akbash/Labrador Retriever mix was left on the doorstep of the Central Okanagan Dog Control Service in Kelowna on July 3, 2018. It was estimated he was ten years old at the time.
He had clearly been neglected, as he had discharge from his eyes, very dirty ears, a lump on his chest, and several decayed and fractured teeth that needed extraction.
In the care of the BC SPCA, he was cleaned up, underwent major dental surgery and was administered needed vaccinations and antibiotics. He spent his recuperation time in the care of one of our wonderful foster families, before he was transferred to the BC SPCA Shuswap Branch in Salmon Arm.
He was adopted from there on August 17, 2018 but returned the very next day, with the reason that he had a tendency to chase cats, wildlife, bikes and cars.
It was during his second stay at the shelter that he caught the eye of a discerning adopter looking for a senior companion. And this is where the story turns around, as you'll read below in the update from his forever guardians.
Last summer we said farewell to a well-loved companion. Duffy was a 12-year-old Lab cross and had spent 99% of those years at my side—at home beside my recliner, out in the garden, in the back seat of my truck with his head over my shoulder and in the bush as I worked as a forester. He died in our arms, leaving an immense void. 
As we suffered our loss, inevitably talk turned to another dog. As now seniors, we did not think we could raise another puppy—chewing everything, digging holes, endless energy, etc.
Reading a web page which provided several reasons to adopt a senior dog, we decided to search for an older gentleman or lady.
We scanned various offerings, then in September we saw Conrad, an Akbash/Lab, a ten-year-old fellow with a grin on his face. He was in the BC SPCA Shuswap Branch shelter.
Luck or providence was with us as our son and his family, who live in Grand Forks, had to be in Vernon. We met there and went up to meet Conrad.
Conrad is now fully at home here on Vancouver Island. We have acreage and a large woodlot. He is the sweetest dog. He is rapidly learning our ways, and we his.
Sometimes it seems like we have been together for years. As a livestock guardian dog, even though he is a senior, he is alert and poised on our porch.
A very hairy fellow, we are learning about sweeping and not wearing black pants!
Thank you to Victoria at the Shuswap shelter, and her husband Dean, who brought him down to the coast to our local BC SPCA Comox Valley & District Branch.
What a lovely story of resilience! Conrad, after all his trials, is trusting in this second chance at happiness. And you, after the loss of a beloved constant companion, have opened your hearts to give another dog a safe and happy retirement home.
Thank you for your decision to adopt. Aren't senior pets "paw"some?!
Have you adopted an animal from the BC SPCA and want to share your joy with others? Submit your adoption story!