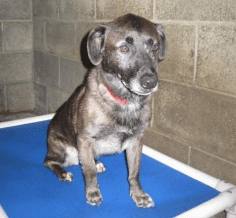 For many of us, our pets enter our lives when we need them most.
This was certainly the case for Ann and her family when they came across Cole, a sweet and very loyal Corgi Mix. At the time, they were mourning the loss of another pet of theirs.
When they saw that the spirits of their cat, Fitz, were also at an all-time low, Ann decided it was time to look into the adoptable animals at the BC SPCA Nanaimo & District Branch. Here, she met Cole, and it didn't take long for him to win Ann's heart.
In November 2009, Ann made it official and adopted Cole into her family. Now, almost a decade later, Ann has shared her story with us:
Cole came to us at a time he could fulfil a hole in our hearts for one we had lost. Knowing we could never truly replace any pet, Cole definitely filled the gap and made our old cat, Fitz, very happy.
Fitz and Cole happily lived together. Within about five years, Fitz was diagnosed with feline cancer and sadly we had to send him on his way over the Rainbow Bridge.
Cole pined so badly for Fitz that we decided to get him another partner to help cope with the loss of his feline companion. Hence, we adopted Teeka, our little Corgi mix! Cole and Teeka have become very close. They are inseparable and love each other very much.

Cole has grown a lot in the ten years we have had him—he has given us love, companionship, smiles and so much more. He is still with us at age 14. He now suffers from arthritis as many of us old folks do.
Cole and I are growing old together and hopefully he will be with us for a few more years to come.
Thank you, Ann, to you and your family for choosing adoption as your first option. Cole came into your life at the perfect time to immediately earn a lifelong place in your heart. His unwavering companionship to Fitz and now Teeka is paralleled only by your commitment to them throughout their lives.