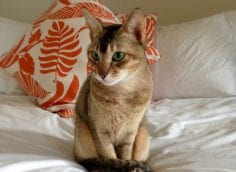 Cinnamon Bun, was surrendered to the BC SPCA Vancouver Branch on August 29, 2016, because the owner's landlord did not allow pets. She was quickly adopted by her new guardian on September 11. Or perhaps it was the other way around, as you'll read here.
A little over a year ago I adopted from the BC SPCA a shy, but adept, chatty and affectionate, one-year-old Abyssinian formerly known as Cinnamon Bun.
To say that my life changed is an understatement.
Cinnamon Bun, now called Queen Cleopatra Zula Bast, Cleo, Cleyonce, Lady Meows, Purr Pants, or Nugget Fox (or sometimes all of the above at the same time) is the sweetest, most loving cat I've ever had–and a far cry from the terrified cat I originally met.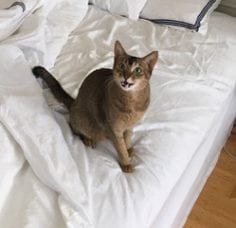 While Cleo adjusted with relative ease, her current larger-than-life personality took time developing. It wasn't so long ago that she was this tiny, shy, affectionate cat who would quiver in fear whenever I had people over. But over time, and with a lot of encouragement, Cleo took to ruling her kingdom with ease and to demanding attention from her loyal subject. Now I can't stop her from pulling potatoes from my cupboard, following me around everywhere I go, constantly meow-chatting at me or sleeping under the covers no matter what the temperature.
She is the most loving companion, who melts the hearts of cat lovers and haters alike.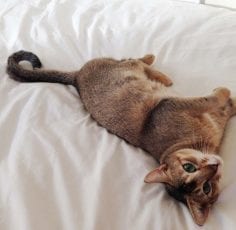 I know people often dismiss shy and anxious animals, especially ones who are a little older. But Cleo is proof that these animals can also be the sweetest, most loving pets you will ever own, who, when given time, kindness and a warm, safe home will adjust quickly to their new life.
Well, we couldn't have put it better ourselves! Potential adopters do tend naturally to gravitate to kittens, or to cats who are comfortable and outgoing from the very first meeting. But you didn't underestimate this girl's potential. By the way, you may know another common nickname for this curious, clever breed — the clown of the cat kingdom.
Thank you for giving Cleo the opportunity to blossom into her full potential. And thank you for making adoption your first option.