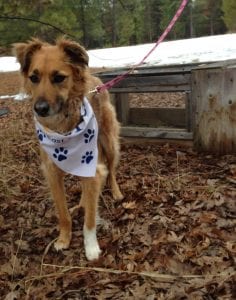 Just like humans, our animals can be timid and take some time to warm up to new people and new environments. We soon learned this about Chloe, who was two years old when she came into the BC SPCA East Kootenay Branch in February 2016.
To help with her socialization and observe her personality, we placed her into foster care. Here, her gentle, sweet and loving personality really came out. It became clear that she'd be a lovely canine companion once she learned to trust her guardians.
Within a couple of weeks, we arranged a meet and greet for Chloe with Blake and Nicole. Chloe soon won their hearts. Two years later, Blake has written to tell us about their lives with her:
Chloe was very timid when we first got her. She bonded with Nicole instantly, but she took a while to warm up to me. Because of this, it was obvious that she has had poor experiences with men in her past.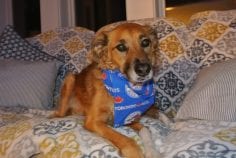 After a few months with us, Chloe really came out of her shell. She loves to sprint around the yard and run just far enough that she can come racing right back to us. She gives more kisses than any other dog I've ever met.
Despite her speed, Chloe is definitely a couch potato at heart. She loves curling up on the couch or bed and being pet for as long as we want. She is also a big Toronto Blue Jays fan, and she wears the team colours to show it.
We have had her for two years now, and every day she makes us laugh and smile.
Thank you, Blake and Nicole, for choosing to adopt Chloe and for helping her real personality shine!