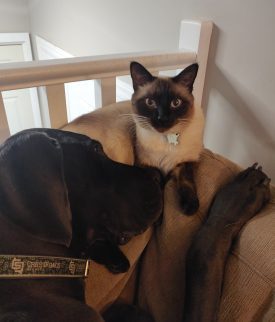 For those of us who are fortunate to have more than one pet in our lives, it's no secret how entertaining they can be when they play together.
In January 2021, Rachel met Chip at the BC SPCA North Cariboo Community Animal Centre; he was a spunky young cat who happened to love larger dogs. At home, Rachel already had two Great Danes. Could this be a match made in heaven?
In short—yes. It has now been several months since Rachel adopted Chip and she has written to us with an update:
"As soon as I saw Chip's picture and biography on the BC SPCA website, I knew I had to try to take him home. I had been holding off on adopting a new cat so soon after the loss of our previous kitty, but I couldn't resist Chip.
His profile said he loved big dogs. With two Great Danes in the house, it felt like a sign. We took Chip home as a trial over Christmas to see how he did with the dogs, and the trial turned into 'fur-ever'.
Since Chip decided to make us his family, we have been constantly amazed by his athleticism, attitude, affection and chattiness. He is our smallest four-legged family member, but he is definitely the boss.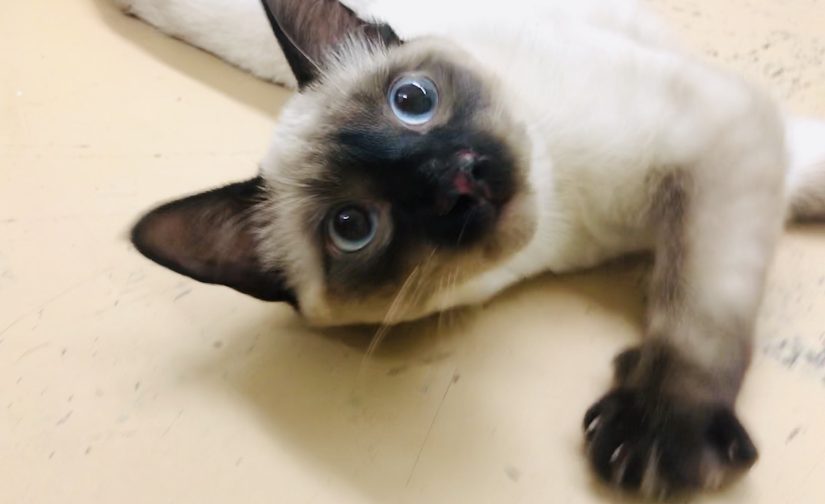 Chip has developed a close friendship with our female Dane. He loves to groom her face and sleep beside her on the couch.
He also loves to play-fight with our male Dane. Chip is fierce and fearless, leaping from hiding places to attack the dog's tail or legs, before running to a new ambush site.
Chip loves to play with everything—toys, treats, his dogs and his humans. If there is nothing to play with, he will invent his own games. He'll leap up into the air, race around and spring off of walls.
He loves getting into trouble and finding new, exciting places. I have even found him swinging from the chandelier! He is quickly learning to be an Adventure Cat, and is getting used to going outside with his harness.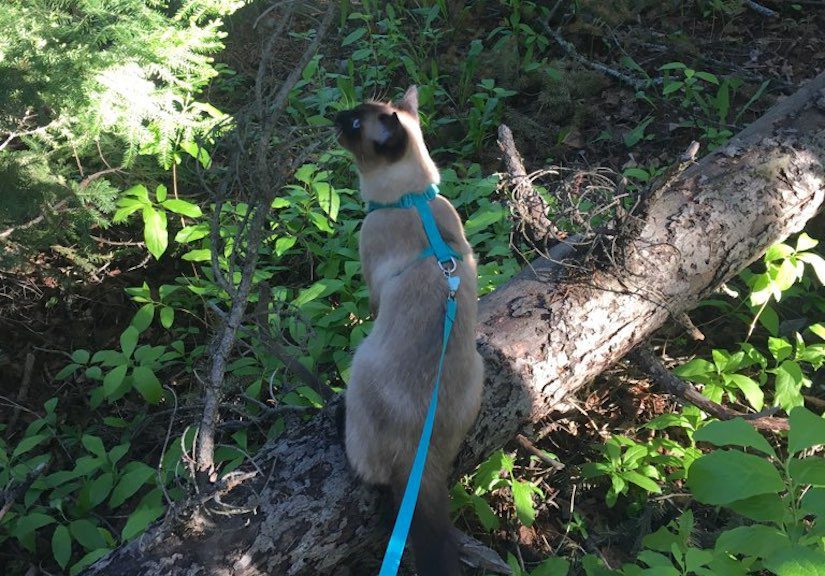 As for his affectionate side, Chip is very demanding about getting attention. He meows every day when we get home from work and won't rest until he has had five minutes of dedicated cuddling. If he thinks he's being short-changed, we don't hear the end of it until we make it up to him.
Chip has definitely made sure we are never without a loving companion, day or night. He always seems to know when a cuddle is most needed."
Thank you, Rachel, for choosing adoption as your first option. We have loved hearing about just how well Chip has settled in to his new home this year. We have no doubt your Great Danes find Chip just as entertaining as you do. Thank you for giving Chip such a fulfilling life and loving family.
Have you adopted an animal from the BC SPCA and want to share your joy with others? Submit your adoption story!