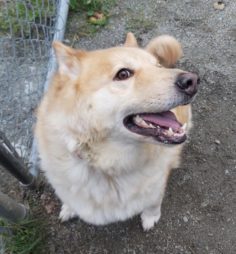 When Chino first came into our care at the BC SPCA Maple Ridge Branch in the autumn of 2019, we knew was an amazing catch.
Along came Russ, an adopter who is passionate and savvy with Malamute mixed breeds. Naturally, Russ saw all the wonderful qualities that we did in Chino. It was obvious that Russ and Chino were the perfect match for each other.
It has been just over a month since Chino went home with Russ and we have received an update on their happy lives:
The description from the BC SPCA staff made Chino sound too good to be true: "A very friendly, playful, calm Alaskan Malamute/Akita, five years old."
The staff called Chino a gentle giant, a 105-pound bundle of fur but sometimes stubborn—of course—he is a Malamute, after all.
When I arrived at the BC SPCA Maple Ridge Branch after a four-and-a-half hour trip, it was clear that the staff's description was accurate. Chino was running around the office, snuggling up to each of the staff in turn. When I bent down to give him a treat, he gave me a kiss.
Later that day when we arrived home, Chino settled in right away, energetically exploring the house and yard.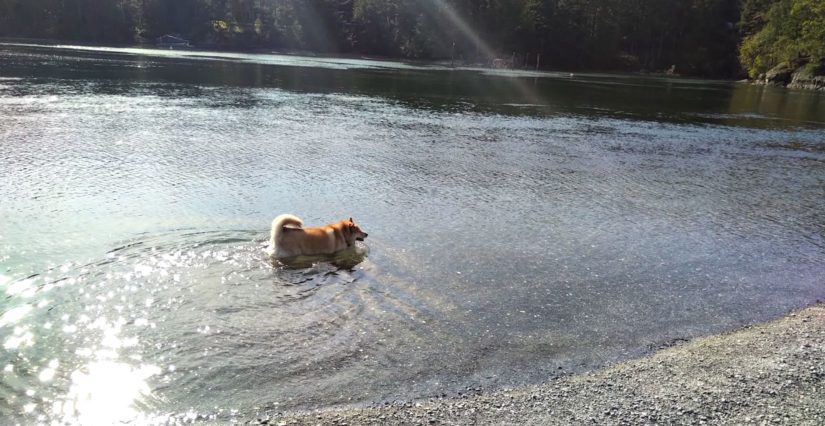 Chino's only physical problem is his weight. He needs to lose 25 pounds. His vet said to aim for no more than a pound or two per month. I took it easy for the first few days, taking him on several shorter on-leash walks. Now, we go on four or five longer walks each day, some on steep hills and some off leash.
Within a day, we met three dogs in our immediate neighbourhood. Chino made friends with all of them, including a one-year-old Whippet, who runs at 35 kilometres an hour and weighs less than 20 pounds. When they met, both dogs did play-bows and ran around chasing each other.
Now, after just over one month, Chino continues to surprise me. When we play chase inside the house, he stands up on his hind legs to try and find me. He swims in the ocean every day no matter what weather.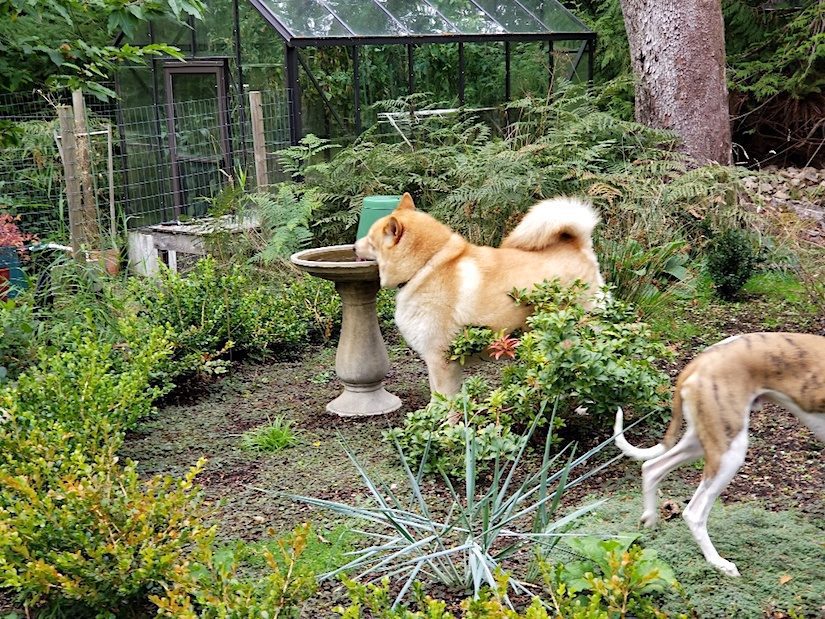 Chino's only behavioural problem was mouthing. Whenever I put my hand near his head, he would gently grab my hand in his mouth. When he tried to mouth me, I said nothing and turned away from him, looking the other way. After a few days, he stopped doing it.
Chino loves car rides and I soon realized how smart he is. Within three days, he figured out how to wind down the car windows. Now I have to remember to lock the windows after opening them part way.
One afternoon, after playing with a neighbouring Shepherd/Husky, Chino borrowed the other dog's ball. When we got home, he started throwing the ball around and chasing it. He even played fetch a few times with me—this is almost unheard of for either a Malamute or an Akita.
Chino loves his outside bed, which is under a shelter where he has a good view of the forest, bald eagles and ravens. His inside bed is next to a low window, so he has the same view from inside. Chino sleeps about 12 hours a day, mostly at the foot of my bed.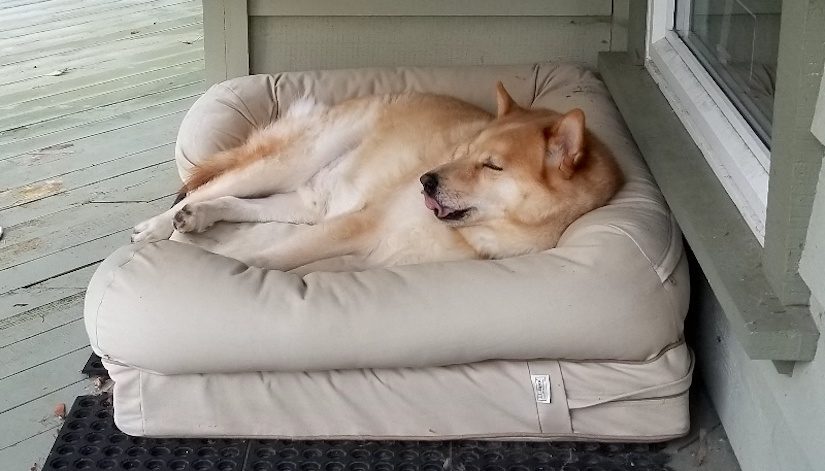 I especially wanted another older Malamute. They need a lot of exercise and socialization and should never be left alone for very long if at all. Chino is my fourth older Alaskan Malamute from the SPCA.
Everywhere I take him he wants to meet every person and dog—and the people and dogs all want to meet him! I take the opportunity to stress the importance of adopting dogs from shelters.
The BC SPCA Maple Ridge staff were wonderful. They were pleasant to deal with, honest about Chino's behaviour and weight problems, very professional and obviously had Chino's best interests at heart.
I could not hope for better people to take care of animals. In my experience, any organization will have happy staff if they have first-rate managers. So, I also give credit to the BC SPCA management, both at Maple Ridge and at the provincial level. Thank you.
Thank you, Russ, for choosing adoption as your first option. Your adoration for Malamutes and their needs is inspiring to us and other responsible dog guardians. Thank you for supporting and providing homes to rescued dogs over the years. We know that Chino has found his ideal forever home with you.
Have you adopted an animal from the BC SPCA and want to share your joy with others? Submit your adoption story!