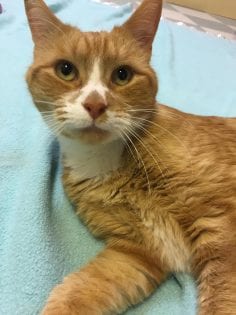 When Cheddar2 (or, as we called him, Pacino) came into BC SPCA Richmond Branch in February 2017, he made it clear to us that all he wanted was human affection and to perch on top of his cat tree to watch the world go by.
For many of us, our homes don't feel complete unless we have a fuzzy family member to share it with.
After their previous orange cat passed away, Donna's family was left with the feeling that something significant was missing from their lives—a catlike companionship.
In March 2017, Donna was browsing the BC SPCA website, and she stumbled across a very handsome orange cat who reminded her of their previous feline friend. She couldn't resist taking her husband to the BC SPCA Richmond Branch to meet him soon afterwards.
A year later, Donna has written to us with an update on their lives with Cheddar2: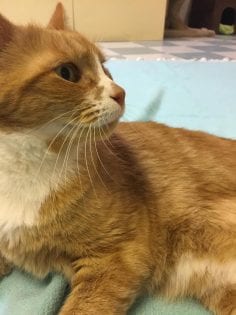 One year ago we adopted seven-year-old then-named Pacino from the BC SPCA Richmond Branch. He was listed on the BC SPCA website, and it was love at first photo. He had originally come from the Dawson Creek Branch and was brought down to Richmond for dental surgery.
We popped in to meet him when he had recovered from his dental and before I had a chance to say "Meow," he was cuddled up in my husband's arms.
We specifically wanted an orange cat because of their good-natured character and wonderful shorthair coats. We wanted a stay-at-home older cat.
We renamed him Cheddar2 because he reminded us so much of our first orange cat Cheddar, who passed away after being with us for 17 years. We miss Cheddar very much.
Cheddar2 soon changed our quiet home. He is a big boy at three feet long from tail to nose. Cheddar2 loves being outdoors—he is a social butterfly who visits with several other folks in the complex.
He loves playing with children and dogs, although he's not too fond of other cats. He loves people, and he loves playing at any time but gets bored easily!
He brings us joy every minute of every day. We love him dearly.
Thank you for bringing Cheddar2 into your lives and for giving him so much love.