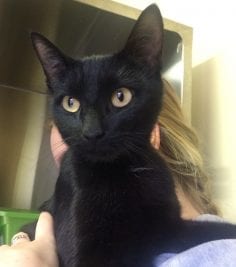 Charlotte came to the BC SPCA West Vancouver Branch from the BC SPCA Shuswap Branch on September 5, 2017, after being found wandering around the village of Chase.
As a stray female, she may have had several litters of kittens over her lifetime, adding to the overpopulation of homeless cats trying to survive outdoors.  Under the protection of the BC SPCA, she was spayed, vaccinated, and treated for parasites before being released to her forever home on September 17.
During her time in our care, shelter staff noted that Charlotte was an incredibly affectionate girl who loved to be held and snuggled, and to give lots of head butts. They suspected her easy-going character would make her a good companion for another cat. And it looks like she found herself a great one, as you'll read in this update from her new guardian.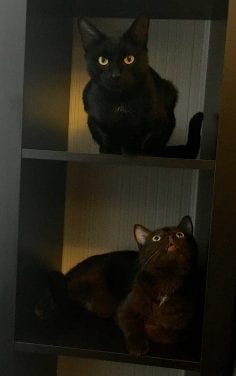 We went to meet Charlotte in September of 2017, in hopes to finding a friend for our resident cat, Benny. We adopted Benny over two years ago at the BC SPCA West Vancouver Branch, so we knew we had to revisit.
Charlotte is about four years old, black with yellow eyes, and a meow too unique to copy. She was found in Shuswap as a stray, and relocated to the BC SPCA West Vancouver Branch to find us!
Charlotte and Benny have become great buddies over the last little while, running and chasing each other around the house and, of course, eating each other's food. Ha. Benny is a six-year-old male, and is too cool for words, laid back, playful, and happy to have a little sister.
They're turning into the best duo we could have asked for. We look forward to watching their relationship grow over the years. Thank you BC SPCA.
We couldn't be happier that you helped Charlotte and Benny find each other, it sounds like they're quite smitten! Thank you for making adoption your first option.