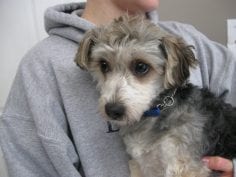 Little Casey was almost one year old when he came under the care of the BC SPCA Nanaimo & District Branch around June 2010. He was very fearful of others when he came to the shelter but it didn't take long for him to get comfortable.
We discovered he actually had a very outgoing personality just waiting to be let out. His ideal forever home would be an active one with a family that can give him lots of attention. Casey would also love to have another dog sibling to run around and play with to burn off some of that crazy puppy energy he had.
It was a very short time before he found the forever family he was looking for and they brought him home. His guardians gave us this update on how he has been over the years: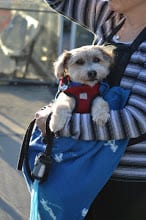 On Jun. 2, 2010, I travelled from Vancouver to Nanaimo, with daughter dog Annabelle, to meet Casey (now called George) who was up for adoption. Unfortunately, the first ferry from Horseshoe Bay was full and we arrived at the BC SPCA after closing. The wonderful staff had kept the shelter open late for us and had already taken the necessary steps to approve the adoption. In short order, Annabelle and I were back on the ferry with her baby brother George, heading home to introduce him to the rest of the family.
We all fell in love with George immediately and he has formed special bonds with all of our extended family.
He is the king of comfort and will often squeeze behind you on a chair, spread out, and eventually displace you. He loves to cuddle too.
George had been assessed, by the BC SPCA, as being good with other dogs and ideal for adoption to a home with another dog. They were bang on! George and Annabelle have been inseparable since day one. He has a special girl who is our neighbour dog (a wheaten terrier), a rugby buddy (who is a Ridgeback), and a favourite boy: his cousin dog (a blue heeler cross).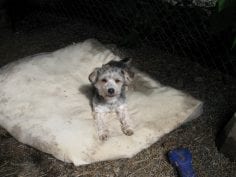 We have endless pictures of George's sleeping positions—mostly on his back with legs up in the air—and when he senses you enter the room where he's snoozing he starts a swimming motion with both front paws to say "rub my belly."
When he's excited he stands on his hind legs and makes the same motion. This solicits lots of smiles and comments from passersby when we are out and about. George has travelled extensively with his family—trips to the cottage, Christmas in Disneyland, and camping all over western Canada and the US in our trailer. But his favourite thing is being off-leash in the Canyon or at the dog beach. In good weather he heads straight for the water, fresh or salt—his Island roots.
George turns eight in September. Annabelle turns nine the same month. They still play like puppies, are happy and healthy, and are so loved. They don't even mind their budgie sibling Mickey, who flies all over the house.
Thank you for bringing George into our family!
It brings us so much joy to hear that George has grown up with such love and support around him. It sounds like he's getting plenty of activity and exercise, while getting to be his silly self. We couldn't have dreamt of a better fit for him and want to thank you so much for giving him the forever family he deserves by making adoption your first option.