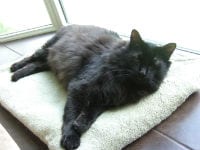 Calvin was a handsome cat who came in under very unfortunate circumstances. His owner had passed away in April 2012 and nobody within the family could take Calvin in so he was brought to the BC SPCA South Okanagan/Similkameen Branch to find a new home.
Calvin was a big boy weighing in at a whopping 16 pounds, but he was such a sweetheart to everyone he encountered that he probably was just full of love. Everyone knew Calvin was going to have an especially tough time finding a new home; he was black, overweight, and an adult.
Some months went by and still no interest in poor Calvin, staff did everything they could to try and find him a home, but it seemed like it was going to be a waiting game.
After another month went by Calvin showed a lot of interest in potential adopters who were there to look at some orange tabbies. It wasn't love at first sight, but his outgoing personality stole a spot in their hearts.
On their way home from Kelowna that very night Paula and Mike called the South Okanagan/Similkameen branch and asked if they could adopt Calvin. They had seen firsthand what a wonderful cat he was and couldn't get him off their minds.
Months later Calvin, now Casper, lives a luxurious life with other fellow animals and Paula and Mike have taken the opportunity to let us know how things have been going.
Hello,  My husband, Mike, and I were looking to adopt a new cat since we had to make the heartbreaking decision to put my 15-year-old cat, Grommit, to sleep due to cancer.
I thought I wanted another orange tabby, so I checked the SPCA website for weeks looking for the perfect new companion. There were three or four possibilities, so we went to meet them at the Penticton branch.
 
We knew we wanted an adult and since we had three other cats and two dogs at home, the new cat had to be very easygoing. I met the orange tabbies I thought I wanted and none of them had a reputation for getting along with other cats.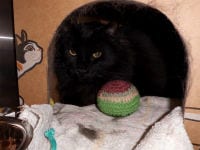 However, this other cat, Calvin, kept rubbing against our legs and begging to be picked up. He was huge (16lbs!) and black with a very handsome face so we petted him for a while before leaving to check out another cat at the Kelowna branch.
The lady at the SPCA mentioned in passing that Calvin was four years old and had been there for a few months and nobody showed any interest in him, which was surprising for such a friendly cat! He had come into the SPCA with a large group of other cats, so it was obvious he got along well with others.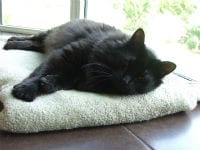 The cat in Kelowna didn't work out, so we phoned the Penticton branch on our way back to ask them to hold Calvin for us until we could pick him up the next day. He's been a wonderful addition to our household and we're so glad we picked him.
We renamed him Casper and he loves to sleep on a blanket on the bay window sill. He ignored the other cats' initial hissing and is the perfect cuddlebug! He loves to lay on the pillow and lick my husband's hair when he's trying to sleep.
He also puts his paws around your neck when you pick him up – so sweet! I highly recommend adopting adult cats and especially don't overlook the black ones. A good personality is the most important thing to look for!
 
Paula and Mike
We were so happy when we got the call that Paula and Mike wanted to adopt Calvin, although not initially the colour of cat they were looking for it really goes to show that you can't get by on just looks these days. A big thank you goes out to them for opening their home up to another animal and for choosing to make adoption their first option.