In early 2019, Ian and Chantel were ready to welcome another canine companion into their life.
They already had a sweet senior Great Dane at home and were certainly aware of the challenges that come with being responsible for a large-breed dog.
In April, they met Callie at the BC SPCA Burnaby Branch. Ian and Chantel had to listen to their instinct telling them Callie would be the perfect fit, however, they couldn't quite suppress some uncertainties.
We now have an update from Ian on just how well Callie has settled in:
When I first saw Callie available for adoption, I instantly got the feeling she was the perfect addition to our little family.
Of course, my wife Chantel and I had our initial concerns as we prepared for a potentially nightmarish walking experience with Callie. Would Callie like and trust us enough to walk with us? Would she pull too hard that only I would able to walk her? What if Callie didn't get along with Guinness, our eight-year-old Great Dane? Would she be food aggressive?
Callie answered all our questions with the most positive answers.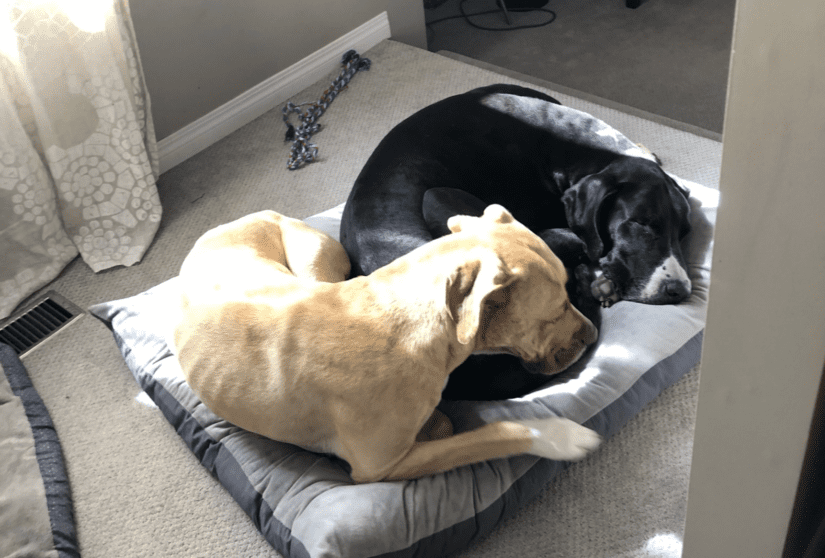 Callie is great on walks and is very attentive to the person holding the line. She quickly glances at any small animals like rabbits and birds, but then goes back to enjoying her walk. And, while she is food motivated, Callie is very gentle when receiving treats—both sets of in-laws have already taken to her gentleness.
For me, Callie has been my cuddle buddy. Whenever possible she nestles right next to me. She has even found some interesting ways to share the limited couch space with Guinness.
I see our life with Callie only getting more and more awesome as her personality continues to show through.
Thank you, Ian and Chantel, for choosing adoption as your first option. By welcoming Callie into your home we can see that she not only receives love and care from you both but also infinite affection from Guinness. Callie's gentle demeanour is the perfect match for your kindness and she will be forever grateful to you for giving her a family of her own.
Have you adopted an animal from the BC SPCA and want to share your joy with others? Submit your adoption story!