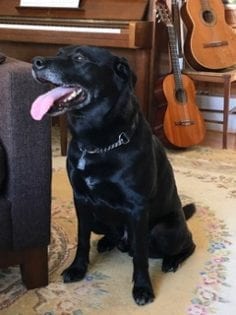 Buck was about six years old when he came under the care of the BC SPCA Alberni-Clayoquot Branch in November 2016. His previous guardians had to surrender him because their landlord didn't allow pets.
The beautiful Labrador retriever was definitely a social dog. He loved being around people so much that he had some problems being left alone. So we knew he would do well in a home with people around a lot of the time.
Buck also loved to laze around. Perhaps a little too much. He was a bit round near the middle and was looking for a family who would help him stick to a healthy diet and give him lots of exercise. He could be active but just needed someone to guide him outside for walks and play time.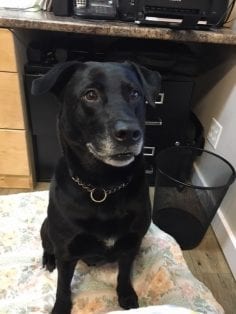 He got along well with kids as long as they were okay with him jumping around when he was excited. Buck definitely had a silly personality and we couldn't wait for him to show that off to his new family.
It was only a week later when his new guardians found him and showed him to his new forever home. They wrote us this update to let us know how he has settled in:
This is Buck (who has many nicknames: Buckles, Butt, Duck, Pickle-Chicken Sandwich). We adopted him on November 26th, 2016 from the Port Alberni SPCA and he is our first family dog.
We have overcome some of his separation anxiety and totally fixed his pulling on walks. Hooray!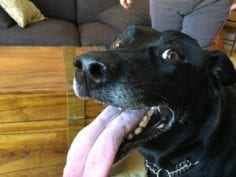 He is a funny dog who smiles, likes to wear hats, and sleeps with his paws in the air. He is also one of the gassiest dogs we've ever met!
He has been a wonderful addition to our family and we love being his forever home.
It sounds like he also loves his forever home. We are so glad that you've made Buck so comfortable and that he can be his own silly self with his new forever family. We could not have dreamed of a better fit. Thank you for giving him all your love and care, and for making adoption your first option.