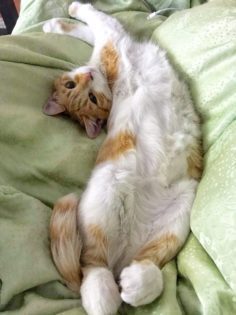 When introducing a new furry family member, not only does it require patience from the adopter, but also a whole lot of determination from the new companion.
Marta met Breezy in April 2019 through the BC SPCA Victoria Branch, and she couldn't resist Breezy's affectionate gaze and sweet face. However, Marta was convinced it wouldn't be a breeze to fit her in to the family right away.
Marta had reservations about her cat already at home, who she thought did not tolerate other cats.
Fortunately, Marta proved herself wrong.
Within a matter of months, Breezy befriended her new feline brother and has nuzzled her way right into Marta's heart.
We have received an update on just how well Breezy has worked her magic:
Breezy has been a wonderful addition to my home right from the start. She loves to eat, explore the house and play with my cat—who I was told didn't like other cats!
Breezy came from a hoarding situation, so she was very scared when I first brought her home. She would always run away to hide. The only way I'd be able to coax her out was by playing with the laser pointer.
My other cat tolerated her at first but Breezy's pushy attitude has won him over. Now, they are best friends.
With some patience and love, Breezy is now the biggest cuddle bug I have ever met. She loves to attack the shadows from the trees each morning and loves to chirp responses back at me when I talk to her.
Thank you, Marta, for choosing adoption as your first option. Breezy will be forever grateful that you listened to your instincts of welcoming her into your home. We can see that she wanted to make it work just as much as you did. We wish you and your cats a lifetime of cuddles, tree shadow attacks and chirping chats.
Have you adopted an animal from the BC SPCA and want to share your joy with others? Submit your adoption story!