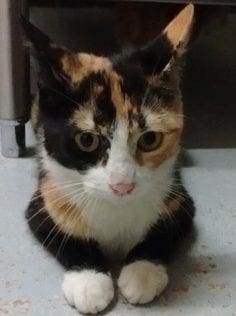 As an outdoor, unspayed, unvaccinated kitty, this beautiful Calico, Boots, was at risk in a number of ways, not the least of which was becoming another statistic in the serious cat overpopulation problem in British Columbia.
Luckily, she was surrendered to the BC SPCA North Cariboo District Branch by her original owner on July 26, 2018, when she was 18 months old, along with her litter of five, four-month-old kittens.
As kittens can become pregnant as early as five months of age, this may not have been Boots' first litter, but it would be her last. In time, all six were spayed or neutered, vaccinated and socialized by a couple of our wonderful foster families.
Once they were ready to be adopted, they were transferred to the BC SPCA Tri-Cities Education & Adoption Centre. Though friendly, gentle Boots was justifiably fearful when she arrived at the shelter on September 1, 2018.
But that didn't stop her from immediately catching the eye of a discerning adopter. Boots found her forever home the very next day, and seems to be doing very well, judging from this update from her new guardians:
We adopted Boots, who is coming up to two years old, in early September when we visited the BC SPCA Tri-Cities Education & Adoption Centre, just on the off chance they might have a young cat available for adoption.
Boots had been brought into the centre the previous evening, apparently from the interior fires area.
I am so glad we adopted her. She was a little nervous to start with but soon warmed up and now races around our home trying to get our attention with her toys.
She is such a character and very entertaining.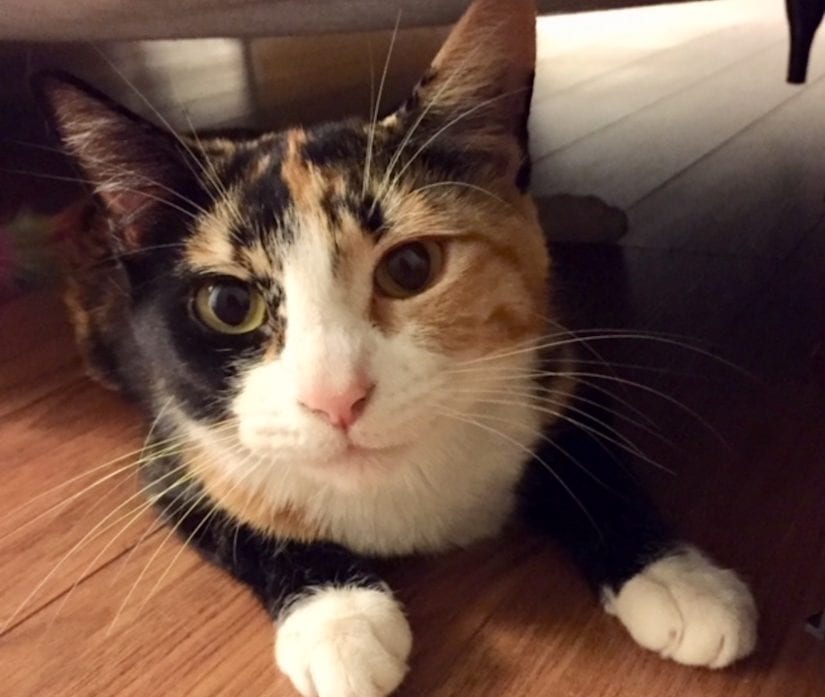 Well, who wouldn't be giddy after the journey this gal had, to have found herself a stable, loving, safe home to call her own?
Thank you to her new family for seeing the happy little spirit who hid behind her fear and for bringing out the joy in her. May she bring you great joy in return, for many years to come.