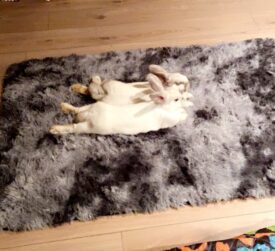 After saying goodbye to our animal family members, who we have spent years of our lives with, it can be very challenging to open up our hearts again.
When Andie was grieving the sudden loss of her canine companion, it took her a good while to fully realize that there was a new space in her heart and her home that she wanted to share.
Early in 2021, Andie knew it was time. That's when she met Bonny and Clyde at the BC SPCA East Kootenay Community Animal Centre. These adorable rabbits were in need of a home to call their own, and Andie couldn't resist.
Now, a few months on, we have received an update from Andie on her new pals:
I had no intention of adopting a new animal when my emotional support dog and best friend of six years suddenly had to be put down due to a tumour.
I wasn't planning on getting a new pet, but after taking some time to grieve and reflect, I knew that my dog would want me to rescue another fur baby and love them just like I did with her.
I would say that I rescued my bunnies but in reality they rescued me.
Bonny and Clyde are quite happy and comfortable with me and in their new home. However, it wasn't like that right from the beginning. They were shy and timid when first adopted.
After spending constant time with them, while allowing them to slowly get used to everything, Bonny and Clyde started to settle in and show their true personalities.
I know the three of us still have a long way to go, and I'm so excited for what's to come. I want to give a big thank you to the BC SPCA for making this possible! My bunnies and I are grateful.
We are so grateful to you, Andie, for finding it in yourself to open up and share your life with more animals in need. We are very happy this sweet bonded pair of buns found their forever home when you adopted them. We wish the three of you many happy memories to be made over the years to come.
Have you adopted an animal from the BC SPCA and want to share your joy with others? Submit your adoption story!