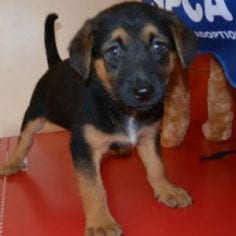 Bonita and her two siblings were surrendered to the Williams Lake branch of the BC SPCA on August 8, 2015 when their previous owner unfortunately could no longer care for them due to having too many dogs at home. She and her siblings were then transferred to the Chilliwack branch before coming to the BC SPCA Port Coquitlam Education & Adoption Centre on August 14, 2015 via the Drive for Lives Program.
Bonita as well as her two siblings found their forever homes on August 16, 2015, two days after arriving at our centre. Staff and volunteers were ecstatic that Bonita's new guardians were found so quickly.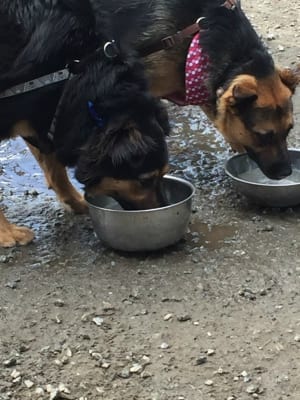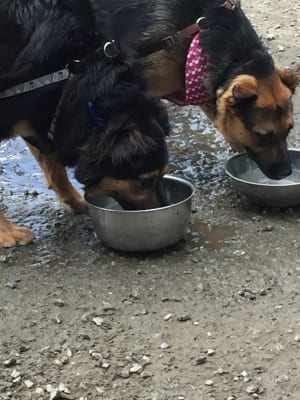 Bonita was very tiny as she was only nine-weeks-old when she came into our care, but she was definitely rambunctious, as all puppies are. She was a lot of fun to be around with her love of toys, kongs and genuine thirst for love.
We don't often have puppies at the BC SPCA Port Coquitlam Education & Adoption Centre since we are a smaller facility, but all of the volunteers were begging for puppy play-time because Bonita was easygoing and had so much energy. We will always remember her for that!
At the time of her adoption, her new guardians met the adopters of Brandon, her sibling, and they exchanged phone numbers so they could meet up one day. The numbers were unfortunately lost in the coming months, but thanks to the diligence of one of our staff members, we were able to reconnect the two families almost one year later.
The families recently had a meet-up (Bonita in the pink harness), and Bonita's new guardians have shared this amazing update with us:
When we first found out we were the proud parents of our little bundle Bonita, we took one look and knew she was our Angel. Changing her name to Angel, we wanted to keep a bit of the Spanish that had somehow been her name. My husband looked it up, and in Spanish "Angel" means "the girl who walks in the room steals your heart and breaks it when she leaves" — it is so true! 
We found out very quickly that Angel loved to be in water and had a love for rocks like her dad (my husband). She loves to go to the dog park, especially down by the river to have a swim, run and play with her many friends.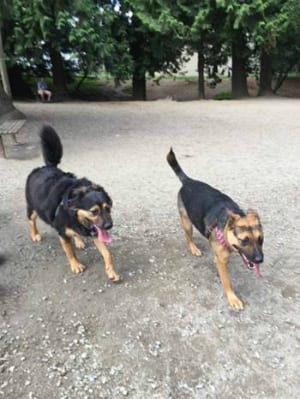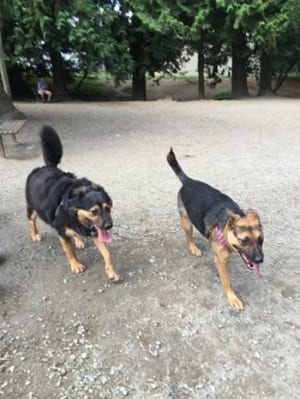 When she finally got to meet her brother, Brandon, it was like not even a day had passed for them. Brandon went right to her, kissing and running around. They even stopped to grab a drink together true brotherly sisterly love; it was amazing. They stayed together the whole time just being brother and sister, running side-by-side. It was wonderful to watch how they have grown. 
I have to say it wasn't Angel that was rescued, it was us she rescued! She has brought so much joy to our lives, made us more active and brought us closer as a family. Even our old lady cat looks at her and waits for an ear lick; Angel will just look at her even when she gives a hiss – she looks, smiles and walks away. 
One of the best moments is when my husband is cooking and she sits at his feet waiting for her veggies (her favourite is broccoli). She also loves apples and just has to have a bite of a banana if he's eating one. In the morning she has to lick the bottom of my tea cup because she wants what mom is having. One of her very favourite things is going to the place that has her favourite doggie ice cream cones – love love love! 
Thank you so much for giving us the opportunity to be the happy family we have become! 
Thank you, Angel's new guardians, for making adoption your first option; we are so lucky that she has found such a loving home. We're thrilled that the families were able to meet and that Angel is doing well – she has definitely grown a lot since the last time we saw her. Please keep us updated and we wish you all the best.