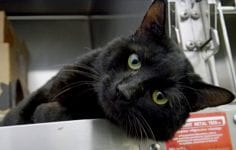 Senior cats and black cats often are overlooked in our adoption centres, as the charm of colourful cats and adorable kittens can be too endearing to ignore.
Thankfully, some potential adopters recognize the many benefits that come with senior pets and others see that black cats are just as beautiful as the colourful ones, as was the case with Bob Marley, a senior black cat.
Bob Marley was a four-year-old stray who showed up at the BC SPCA Vernon Branch on July 17, 2013. He had been hanging around the Okanagan Landing area since April of that year.
In November 2013, after many months of being unnoticed, someone came into the shelter who recognized the awesomeness that is Bob. His mom wrote to share an update on their life together:
Bob is my homie. He's popular with all of my friends and has turned many a strict dog lover into a cat lover. He's super chill.
His favorite things to do are nap in a sunbeam, chase falling leaves or snuggle up for some pets.
He's usually fairly non-verbal but he has many different expressions when he wants something or is feeling a certain way. His purrs are quiet but he drools when he is happiest (so often). We've lived with different animals, dogs and cats and he's befriended most. We did learn that he's not a fan of hyper animals but if they're calm and chill like him he'll be their best friend and cuddle them.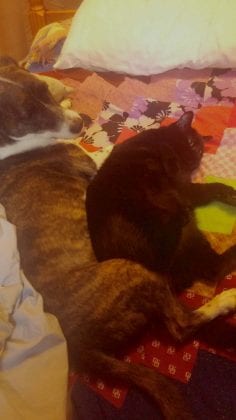 He doesn't care for catnip, toys or cat tents but he goes nuts for falling leaves, empty toilet paper rolls and string, if you drag it around around.
He has his own fenced-in backyard with a lounger set up just for him in the perfect spot to catch the afternoon sun, although he's a bit of a prince and won't go outside if it's too cold.
After a few tries he travels quite contentedly in the car. He loves coming with his mom to dinner parties or games nights where he can visit lots of different laps.
And he has played muse for a few different art pieces by friends, so he's kinda famous.
Sounds like you couldn't have asked for a better buddy than Bob and he is a lucky cat to have a mom who gives him a variety of activities to keep him amused.
Thank you for keeping him safe on his outdoor excursions, for seeing his potential and for making adoption your first option.