Blitzen is a Pit Bull Terrier/Laborador Retriever mix who was surrendered to the Saanich pound. He wasn't quite a year old when he ended up at the BC SPCA Victoria Branch on Dec. 1, 2017.
Like all of the animals that come into our care, Blitzen's personality and behaviour were assessed so that he ended up in just the right home.
Staff noted that he needed an active, experienced home where there were no cats or other small animals, as he prefers to chase them than to make friends. He also needed a family who could help him learn basic manners and leash skills. And of course, he needed lots of love.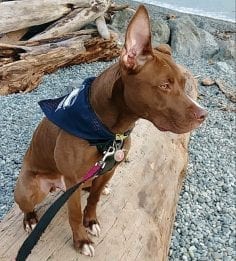 It was only six days later, on Dec. 7, that Blitzen's perfect forever family walked in and fell in love. Here's an update from them.
Blitzen has enriched our lives so much. He is so sweet, playful, loving, rambunctious and friendly.
We have had many wonderful memories with Blitzen and we have only had him for a few months. We have been on hikes, up to Mount Washington, and to many dog parks.
Blitzen loves to play with other dogs and he adores people. We are so in love with our new family member, and are excited for the years to come.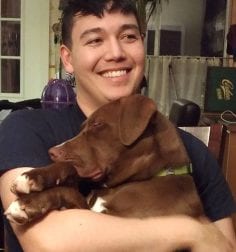 Blitzen has a few quirks, the most interesting being that he is scared of water, but we are looking forward to tackling this with him.
Thank you for the opportunity to welcome such a loving and amazing new family member into our lives!
It's so gratifying to us when we hear companion animals referred to as family members, because that's what they want to be. Blitzen looks like he's settling in just fine.
Thank you for giving him such a fun and loving home. And thank you for making adoption your first option.