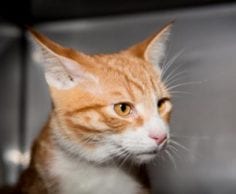 Benji came into the care of the BC SPCA Vancouver Branch in December, 2013 when his previous guardian sadly passed away. At the time, Benji was still a kitten and wasn't yet a year old.
When Benji was staying with us at the branch, we learned that he is a sweet and energetic boy; full of beans and never passing up an opportunity to play.
Once Benji was ready for adoption, he didn't have to wait long until he met his new guardians who fell in love and took Benji home to his new forever home. Benji is now known as Basil and has had over two years to settle into his new surroundings. His guardians, Jocelyn and Gael, have shared this update with us:
Here is an update on our fourth and latest adoption from the BC SPCA Vancouver Branch, Basil (formerly Benji) – while there are no cats sleeping on the keyboard!
In November, 2013, we lost our 13-year-old cat Bertha after she was diagnosed with adenocarcinoma. After grieving for awhile, we decided that the best way to honour her would be to adopt another cat in need of a loving home. However, we had to be sure our new cat would get along with our rambunctious eight-year-old Mr. Bean and our grumpy but lovable 16-year-old Buddy.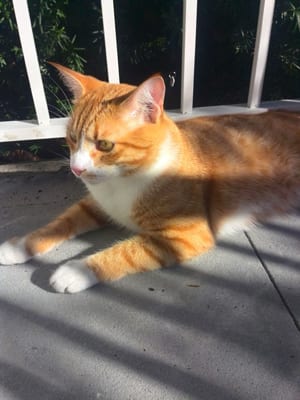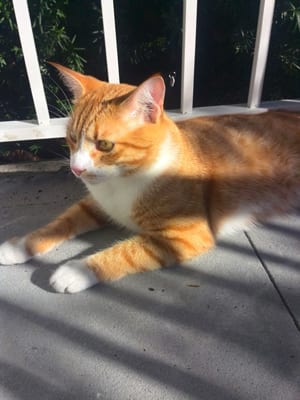 One of the cat adoption counsellors suggested a young, spunky orange tabby cat named Benji as a potential cat for us. We played with him for some time before deciding he was a good match for Mr. Bean, Buddy, and the two of us. We filled out an adoption form.
Benji, renamed Basil, came home on January 13, 2014 and immediately made himself at home. We were very lucky in that the three boys became friends soon. In less than a week we'd come home from work and find Basil and Mr. Bean playing tag or Buddy grooming Basil.
Basil is immensely silly and has so much personality. He loves hiding under furniture to pounce on people's feet, takes great joy in pulling clothes off the drying rack, and jumps into the shower with Mr. Bean to attack falling water. He loves his little wind-up motorcycle and helping us in our garden by digging up soil when he sees us planting seeds or harvesting veggies, even though he always digs in the wrong spot. He and Mr. Bean are quite the mischievous pair and like to open and explore kitchen and bathroom cupboards together.
Just last week, a little over two years after we said goodbye to Bertha, we also lost Buddy to cancer. He had not been doing very well but during his last few days with us, it seemed like Basil understood his big brother was ill and tried to help out. He could often be found snuggling next to Buddy in bed and grooming him, which we like to think was comforting to Buddy.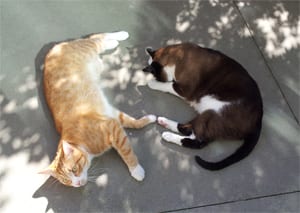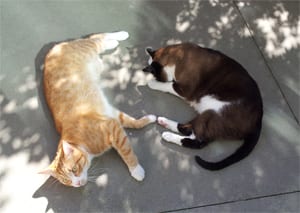 Basil has certainly been a great addition to our household. He came in at the right time and helped us immensely after we lost Bertha and now Buddy. When we come home from work, the first thing we see is Basil and Mr. Bean racing down the stairs to be the first to greet us. He keeps us laughing with his crazy antics and has been wonderful with the older cats, even if he does sometimes annoy Mr. Bean. Thank you so much to the BC SPCA for bringing Basil and friends into our home. We're thrilled and very grateful that all of them found a forever home with us.
Bertha and Buddy sound like they were fantastic cats that lived a wonderful cat-life. We are very sorry to hear they passed away and for your family's loss. Thank you for opening your hearts again and making adoption your first choice for all of your cats. Basil is a very lucky cat to be part of such a loving family with a long tradition of adoption.