In December 2014, following a cruelty investigation, this lovely trio of goats came into the care of the BC SPCA Sunshine Coast Branch. They had been living in deplorable conditions.
Belle, Black Betty and Bessy remained at the shelter for five months while they recovered and gained weight. During this time staff came to know their quirks and personalities. Big, beautiful Belle was found to be friendly and affectionate and happy to be walked on leash so she could graze!
Black Betty was a typical goat, curious, intelligent and quite content to munch on hay and lounge in the sun. Sweet little Bessy was so charming and  made it difficult to get work done because everyone loved to watch her romp and play.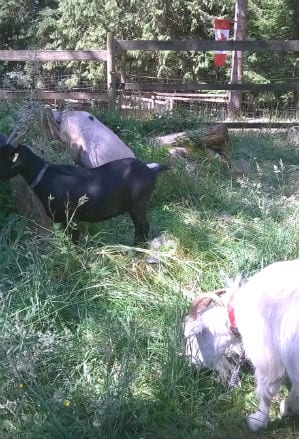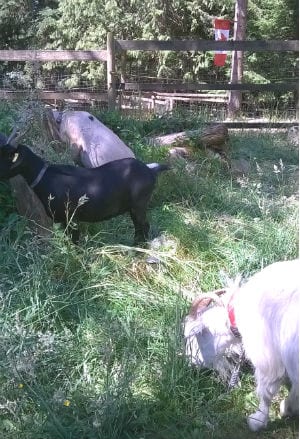 In a wonderful turn of events they were adopted together, and their new guardian, Sandra, has shared this update:
Belle, Betty and Bessy are doing very well. They eat like garburators…literally!
I'm still trying to get closer to Bessy. I can hand feed her, and that's about it. She is the most timid of the trio. Belle, on the other hand, lets me pet and even kiss her.
My poor Betty has a hard time eating. I have to supervise them when I give them the goat tex to make sure she gets her fair share.
Thank you Sandra for taking on the unique responsibility of a herd of goats. After what they endured, we are so grateful that Belle, Betty and Bessy are now safe in a caring, loving home.