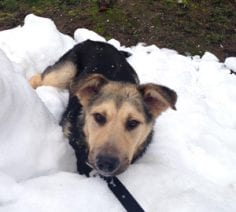 Bella is a one-year-old Labrador retriever and German shepherd mixed breed. She was surrendered into the care of the BC SPCA Prince Rupert Branch in January, 2016 because her previous guardian sadly could no longer care for her.
Once beautiful Bella was ready for adoption, it didn't take long for her playful and loving personality to attract a wonderful new family and forever home. Bella was adopted in February, 2016. Her new guardians have shared this update of how Bella is settling in:
Bella is doing really well. She's settled into our house and has learned quite quickly what is hers and what is ours. Although, she thought my hat was a chew toy yesterday! She loves playing under our large coffee table and hanging out in the yard.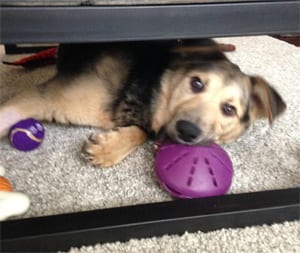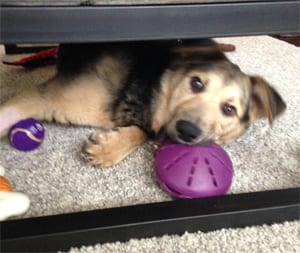 We are looking at signing us up for basic obedience classes but she has already come a long way with walking on the leash and learning tricks like sit, down, and paw.
We have also taken her to the dog park and she loves playing with other dogs. Bella also goes to doggie daycare 1-2 times a week and does really well. There is a photo of her playing with another dog at daycare below.
It's wonderful to hear Bella is doing great and is learning so much so quickly. Thank you for making adoption your first choice and giving Bella a loving new home. We know Bella will repay the favour by excelling at her obedience class and staying away from hats in future.