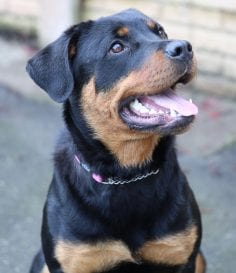 Beautiful Bella spent the first few months of her life in northern B.C., alone and outside on the end of a chain. She was taken in by a lovely local who fostered her for a few weeks but couldn't find her a home.
So on Dec. 21, 2017, this kind foster made the 14-hour trip to bring Bella to the BC SPCA Victoria Branch to give her the best chance of finding a loving, indoor home.
Staff quickly discovered that Bella loves everyone – adults, kids, even cats. In fact, her youthful exuberance was so intense, we knew we needed to find her a home with a dog-savvy adopter who would be able to train her or find her a good force-free humane trainer.
On Jan. 3, 2018, Bella captured the hearts of the family who provide this update.
First, a big thank you to the young family who fostered Bella and decided to bring her down to Victoria, from Burns Lake, for a better chance at adoption.
Our two dogs, German short-haired pointers Buddy and Bailey, passed away of old age (14 and 15, respectively) about five years ago. We always knew that we would adopt a rescue dog when we were again ready to open our hearts to a new furry friend.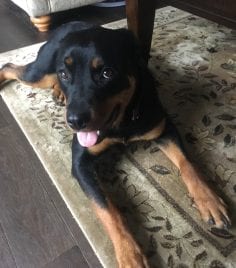 When we saw Bella's picture on the BC SPCA website we immediately rushed into town to meet her and fell in love from the first interaction.
Bella is a Rottweiler (11 months old) and is the sweetest girl, full of love and kisses. She is smart, smart, smart and eager to learn.
We live on four acres in East Sooke and she loves it out here. She especially loves to run through the creek and get wet and muddy.
She had no training that we know of but is quickly learning lots of commands. Although walking politely beside us rather than pulling with excitement is still a challenge for her, she's getting better.
Thanks to Bella, our home seems more alive, and we're getting out in the fresh air much more. We couldn't be happier, and our children, grandchildren and extended family are so happy to again be treated to a furry bundle of love like Bella!
Thank YOU for giving Bella the kind of life she so deserves. We would also like to thank Bella's foster family for giving her a warm, loving home when she needed it and for giving her the opportunity to find the forever family of her dreams.