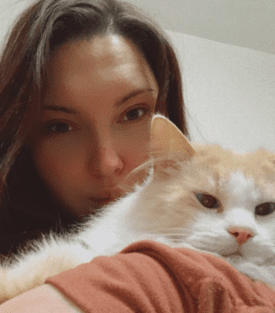 Sometimes, when our head thinks we're not ready for another animal in our lives, our heart refuses to listen.
Understandably, Brenna thought she should take at least a year or two to wait before adopting her next cat after a rough few months with her previous feline suffering with a medical condition.
However, it wasn't long before Brenna found herself checking out the adoptable cats on the BC SPCA website. One of these moments was when she spotted Beau.
At first, Brenna hesitated on whether it was the right time to open her home and heart to another furry friend. Now, a few months on, Brenna has no regrets. She has written to us to share an update on her beautiful life with Beau:
As soon as I saw Beau online at the BC SPCA Nanaimo Community Animal Centre, I immediately sent in my application. I knew he had to be my cat.
I wasn't really looking for a cat at the time. I had previously rescued a Maine Coon kitten, who I named Turbo, in the summer of 2020. He ended up having a very severe medical condition. Unfortunately, he passed away from this only a few months after I found him.
After Turbo passed, I told myself that it was a sign that I wasn't supposed have a pet in my life at that time.
My friends and family started asking me pretty early on whether I was going to get another cat. I just told them, not any time soon, maybe in a couple years.
I kept checking the BC SPCA website—just to see the cats available in my area. At first, there really weren't many.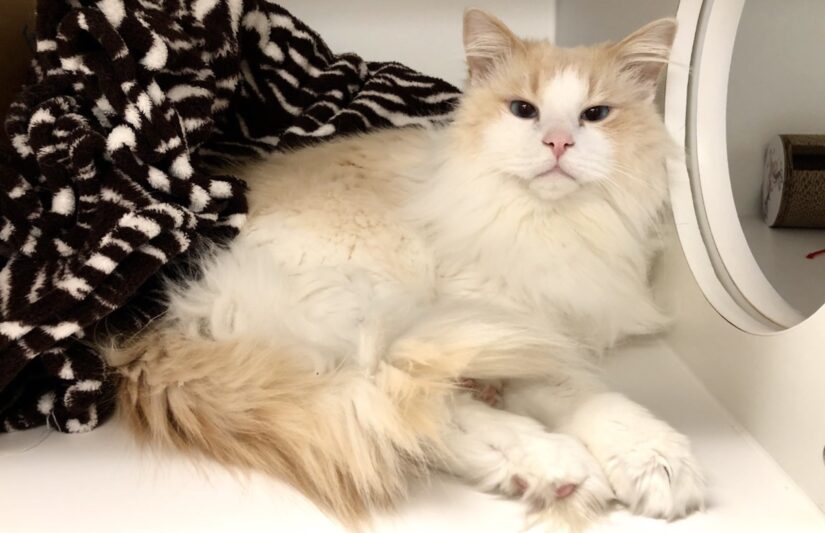 A few months went by and I randomly checked again. This time, I saw this little fluffy face and my heart just melted.
Beau was listed on the BC SPCA website as a special needs cat. He had just undergone surgery for urinary blockage. I contemplated whether I wanted to take on a special needs animal again after what I went through with Turbo.
Ultimately, I decided that I absolutely wanted Beau in my life. Plus, his special needs would be easily managed.
I put in my application for Beau mid-January 2021. A few days later, I got the call to set up a meet and greet with Beau. I was so incredibly excited. I remember calling my mom right after and she was so happy for me. 
January 27, 2021 was the day Beau came to his 'furever' home. Beau was pretty shy over the first few days. He would come and cuddle me whenever I was home, but as soon as I left he would hide.
I bought a little cat house for him so that he would have a safe place when I wasn't home. He seemed to appreciate it.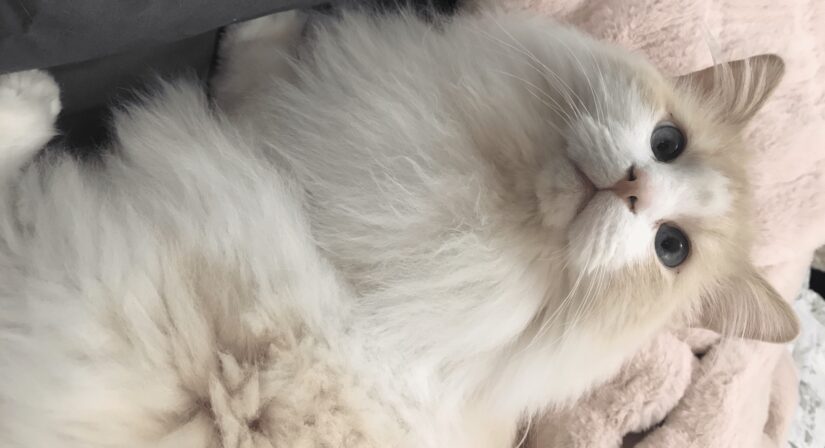 Beau has been here now for just over two months. He has really come out of his shell. He is such a cuddle bug and never passes up a moment to snuggle up with me. Sometimes I think he loves me even more than I love him.
I didn't know how much I needed Beau in my life until I brought him home.
Beau has really filled the emptiness that remained in my heart, and my apartment, after the passing of Turbo. He shows me so much affection in the form of kisses and cuddles, especially when I'm sad.
Beau's playfulness and somewhat sassy personality always makes me laugh. He may cover everything I own in white fluff but I wouldn't have it any other way.
Thank you, Brenna, for following your heart and adopting Beau. We love seeing how happy he is now, after his medical trauma. It sounds like you both are truly content and have found what you were each missing before. Thank you for giving Beau a lap to claim as his own.
Have you adopted an animal from the BC SPCA and want to share your joy with others? Submit your adoption story!