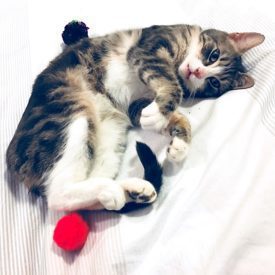 Bea came into our care at the BC SPCA Vancouver Branch as a stray in January 2018. Right away, Bea wasn't afraid to show us just how affectionate and confident she was.
We knew it wouldn't be long before Bea claimed a family for herself.
Only 11 days later, Katey and her partner arrived at the shelter to visit the cats. Once they met Bea, Katey realized there would be no going back.
Over two years later, we have received an update from Katey on how much she and her partner have fallen for Bea and all of her charm:
We adopted Bea from the BC SPCA Vancouver Branch in 2018. I was just going in to "look"—yeah, right!
Bea was the first kitty I met. She reached her paw out and rested it on my hand. Obviously I fell in love with her, and spent the whole afternoon playing with her. She was extremely affectionate and trusting right from the beginning.
Bea loves to slink under the covers and spoon at night. She is definitely not a night owl. She also loves to stretch her neck out and sleep. We call this the "dragon cat".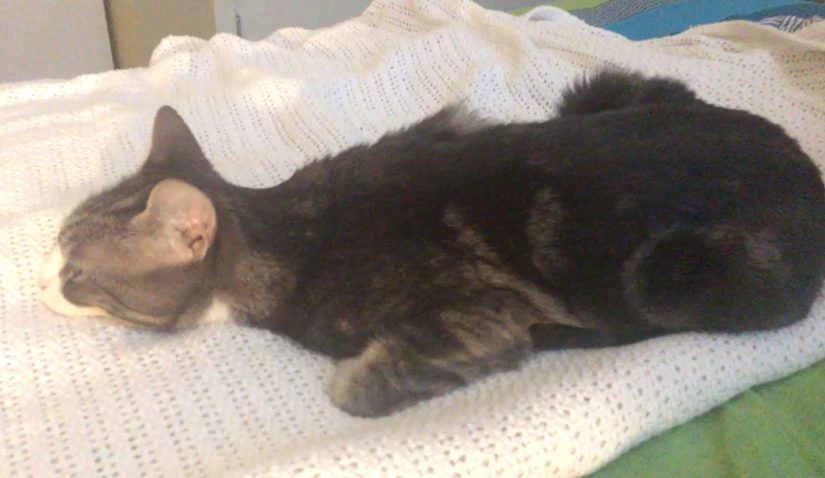 Bea figured out early on how to open cupboard doors. She got into an entire bag of catnip once.
We have moved to the Kootenays since we adopted Bea. She loves her new catio. She is so much fun to play and cuddle with, and laugh at when she does weird cat things.
We are so grateful to have Bea in our family and to be able to give her a furever home.
Thank you to you and your partner, Katey, for adopting Bea and giving her a second chance to live her best life. We are so grateful to see this happy girl flourish and have such loving guardians to share all of her affection with. Here's to many more years of cuddles with your little dragon cat.
Have you adopted an animal from the BC SPCA and want to share your joy with others? Submit your adoption story!