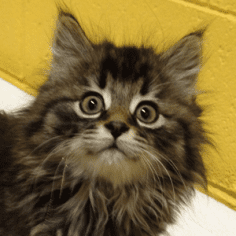 In early October 2013, kitten Bazil was surrendered into the care of the BC SPCA Kamloops Branch. His previous owner had been unable to find a home for him and his sibling and so turned to the BC SPCA. Happily, both kittens were soon adopted and Bazil's guardian has kindly shared this update: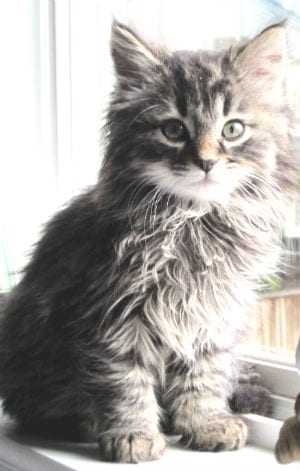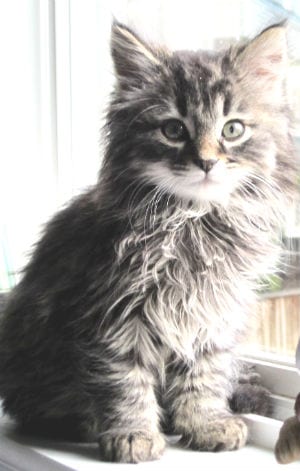 Bazil's story starts out with a Facebook post. Our BC SPCA Kamloops Branch had posted on their page that they were in need of wet cat and kitten food. I saw the post, and decided to drop some off. I brought in a bag of wet cat food cans and after dropping them off at the front with the girls I figured I would have a look around, see what fur babies were waiting on new homes.
I walked by many little faces but when I got to this one kennel I had to stop. Brazil (previously Brad) and his sister Angelina were sitting there with their fluffy little faces and my heart melted. I asked about him and I found out that his sister had just been adopted and that he was still looking for a home. I was able to hold him, and with that my mind and heart were set on adding a new member to our family. I had lost one of my cats in the end of July, and wasn't looking for another, but once he was in my arms I knew it was time to open my home again to a new fur baby. I had to wait to take him home until he was neutered, but he came home with me a few days later. His official adoption date is October 30 2013, he was around 7 weeks old.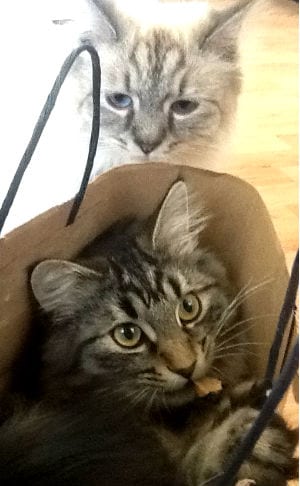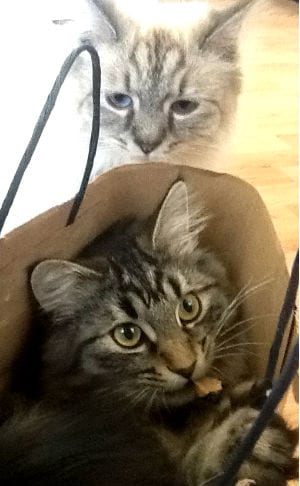 He came home and within days he had the whole household in love with him. He joined us at the right time, we were still sad over the lose of our old cat but he helped us move pass her loss. His clownish behaviour and affectionate ways have made him an irreplaceable member of our home. He spends his days waging war on his favourite toys, lazing around, and teasing his best friend Whiskey (our other cat). At night he is a cuddle bug and a complete bed hog. I never thought a cat could take up so much room! He loves to stretch out when he sleeps and is more than happy to kick you until you make room for him and his mouse toy. Once he has all the room he thinks he needs he turns on his motor, he purrs with such force and volume that it is hard to fall asleep. We have had so much fun watching him grow into the handsome fellow he is now and we look forward to his company in the many years to come.
I would like to thank the BC SPCA Kamloops Branch for bringing this bundle of fur into our lives.
We thank you in return for making adoption your first option and opening your home to Bazil. We wish your family many more happy years with Bazil.