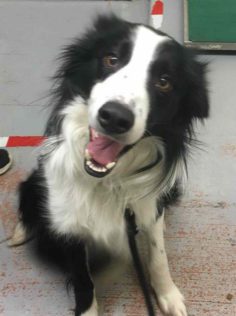 Are you going to take me home?
That must have been the expression that greeted Bandit's new family when they saw him for the first time. And the question was answered with a resounding "yes."
This one-year-old border collie mix was brought in to the BC SPCA North Cariboo District Branch on December 22, 2018. A concerned citizen had found him wandering alone by the river in Prince George.
Alone was not the way young Bandit wanted to stay. In the shelter this gentle, well-mannered pup was sociable and playful and showed signs of anxiety when left on his own.
Luckily for Bandit, it was only a few days before his forever family walked in and fell in love. They took him home on December 29, 2018.
Read the story of Bandit's new life, sent to us by his family:
My husband and I had been thinking about adding to our family. We decided it was time to get a dog. Our son would be turning three and is a good helper who really wanted a puppy of his own.
We started looking online but decided to go to the BC SPCA after attending a birthday party at the Humane Society, where we found a cute lab puppy that we were interested in, but other people were ahead of us.
We went to the BC SPCA a few days later and started off by playing with a puppy. Luckily for us the worker suggested we take Bandit, another dog, for a walk.
We were not sure about getting a dog whose history we did not know but when we saw Bandit we fell in love immediately! We took him out of the kennel for a walk and he was so gentle and kind, he walked well on leash and never tried to knock my son over. This was a huge plus for us.
When we had to take Bandit back to the kennel our son was sad and wanted to take him immediately that day. Unfortunately there was a waiting period, but we decided to continue visiting Bandit and walking him for the next two days until the waiting period was up.
He continued to prove that he was a gentle and kind dog and our whole family had already fallen in love with him.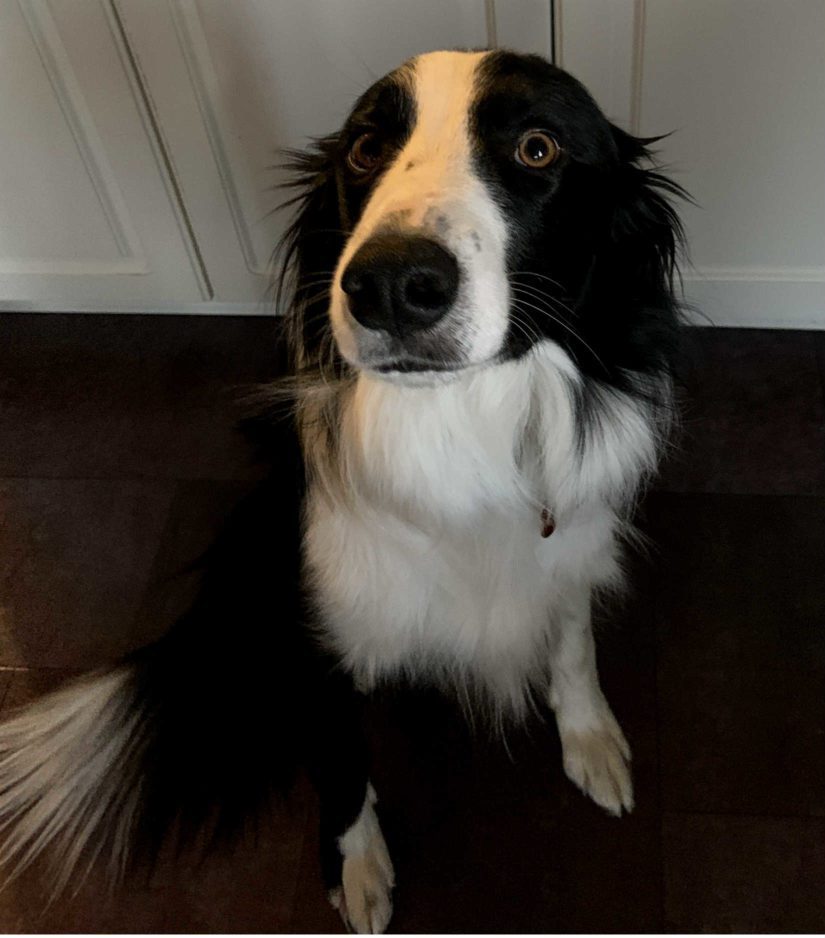 We did research while we waited to make sure we would be okay with this breed of dog and that Bandit would be the right fit for our family. We had never even thought of a border collie before meeting Bandit.
We decided we had to get him and once the waiting period was over we were all in.
Bandit is the most beautiful dog we have ever met. Not only do we love Bandit but we are so fortunate that our neighbour also loves him and enjoys walking him.
Everyone who meets Bandit loves him and can't believe what a treasure we have found. He is so full of love and energy and we are beyond happy that we were fortunate enough to adopt him.
Bandit enjoys quad rides, playing fetch, long walks and snuggles.
Thank you to that worker for letting us know that he was there, so we were able to meet that day!
And we thank you for making the decision to adopt. It's great to read about the time and effort you took to ensure you were making just the right match. That's our goal, too!
Deciding to add an animal companion to your family is a big decision, but we're sure it's one that will continue to pay off in joy for years to come.
Have you adopted an animal from the BC SPCA and want to share your joy with others? Submit your adoption story!