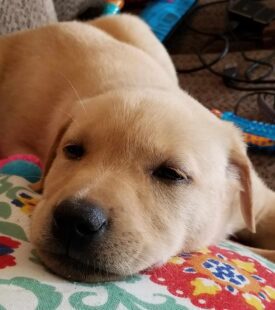 On August 22, 2019, six adorable Labrador retriever puppies were brought into the BC SPCA North Peace Branch. They were eight weeks old.
Bailey and her siblings were vaccinated, spayed or neutered, microchipped and matched with forever families.
Bailey's family sent in this touching update on her progress almost a year after their love affair began when they took her home on August 29, 2019.
I wanted to write you and let you know how much Bailey has changed our lives.
My husband and I lost our two dogs, 14 years old, in 2017 and 2018. We had been looking for a blonde lab type puppy for a few months.
Just as we were going to give our search a break, we came across a posting that you had. It showed six puppies.
After meeting you I found out that the six puppies were left on the side of the road in a box.
After meeting Bailey, I knew right away that she belonged to our family. I am sure you will remember me as I was the one who cried in the parking lot after getting the approval to foster her until we could adopt her.
Our trip home was great. She was wonderful in the car after I moved her to the front seat. She just needed to see me.
Bailey has been such a wonderful addition to our family. She and our cat, Baxter, get along really well now. Bailey loves to chase Baxter. 
I thank you all from the bottom of my heart for everything you did for Bailey and the other puppies that were found that day.
Kelly, Lawney and Bailey and Baxter Chabot
What a happy beginning to Bailey's and your story. May that story last for many, many years to come.
Thank you for choosing to adopt and provide a safe and stable home for this beautiful girl. She clearly is adored.
Have you adopted an animal from the BC SPCA and want to share your joy with others? Submit your adoption story!