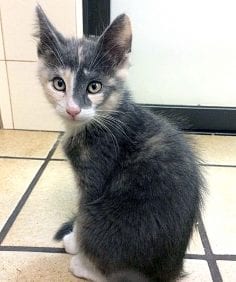 Amy was first brought into our care in July 2017 with her brothers and sisters, found as strays in Kamloops. We then transported them to the BC SPCA West Vancouver Branch on the Drives for Lives program so the litter could meet more potential families.
Once Amy was old enough to be adopted, Marlene and her husband knew she would be the right fit for them.
Marlene wrote to give us an update on just how well Amy has settled in:
My husband and I have always been animal lovers but were never in a position to have a pet. So, when our circumstances changed, we wanted nothing more than to adopt a pet to love and help with life's stress.
Amy has blessed our lives with smiles, laughs and even exercise. We have peace in the house, which was missing before she came into our lives.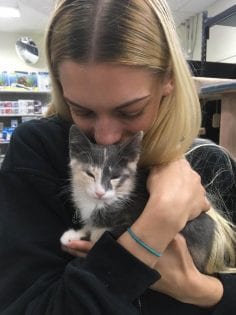 We don't have other pets or any family living close by, so we try to introduce her to the local residents and their pets. She loves kids—we know that a little boy would often come visit her at the shelter.
She sleeps with Mom every night and I have come to miss her if she's still in play mode when I go to bed. Amy loves to play hide and seek, run the hallways and chase a string. We recently brought home a cat tower for her and she loves it.
We take Amy out for walks in her harness and leash. She sits and shakes a paw for a treat. She is very curious and feels the need to be involved in everything. And although she doesn't like her teeth brushed, she is patient and will tolerate me practicing good oral hygiene with her!
Amy has been such a wonderful blessing. She makes our days a pleasure. Thank you so much for bringing her into our lives.
Thank you, Marlene, for adopting Amy and making her such a big part of your life.