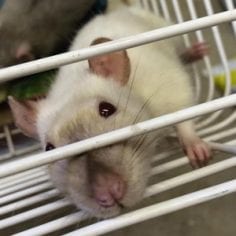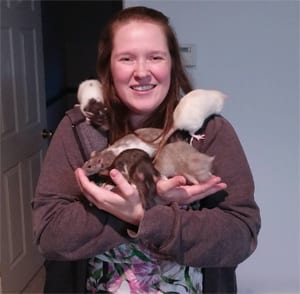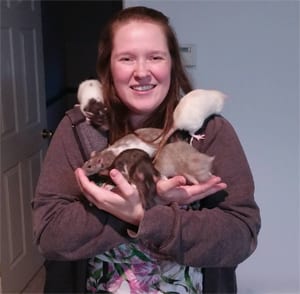 Dorothy, Dizzy, and Aggy are three rat siblings surrendered to the BC SPCA Kamloops & District Branch in August, 2016. These adorable sisters were just four months old and were all very responsive to reward-based training.
Dorothy, Dizzy, and Aggy each have their own unique personality, but in common they have a strong bond and very much enjoy playing and living together. We hoped that we would be able to find new guardians for Dorothy, Dizzy, and Aggy that would allow some, if not all, of the siblings to remain together.
Rats are very social, intelligent, and high-stimulus animals and need the right kind of knowledgeable guardian to ensure they live a happy life and stay healthy. Dorothy, Dizzy, and Aggy struck the jackpot when they were discovered by their new guardians, experienced rat owners Shawna and Joe.
The whole family were quickly adopted and taken home to settle into their new forever home. Dorothy, Dizzy, and Aggy have now had nearly three months to adjust. Their guardians have written us this update to let us know how the whole family is doing: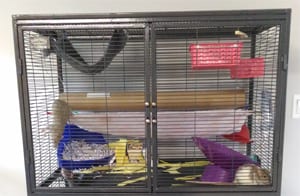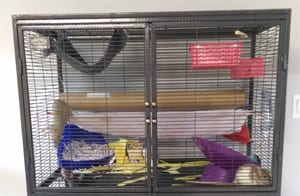 These three young and energetic girls have been an amazing addition to our two already homed rats. They have brought fun and vigor to our older girls, making them feel youthful again!
They love climbing, puzzles, and free roam time. In only a week they were litter trained, came to their names, and could already perform simple tricks like agility courses.
Thank you for such a wonderful adoption opportunity. Everything went seamlessly from our initial BC SPCA visit, to getting them home, and lastly acquainting them with the rats we already owned.
It's wonderful to hear that everything has been going so well with bringing the new family additions home. Dorothy, Dizzy, and Aggy are extremely lucky to have found loving new guardians with the space in their home and heart to keep all three siblings together. Thank you so much for making adoption your first choice and giving these girls a second chance.