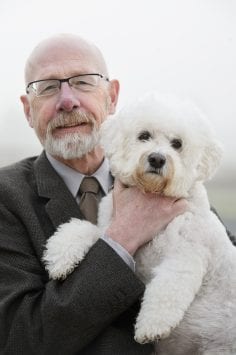 Shawn Eccles has dedicated his career to ensuring the welfare of animals throughout Canada. Having worked with the British Columbia Society for the Prevention of Cruelty to Animals (BC SPCA) for 35 years, Mr. Eccles is currently the Senior Manager of Cruelty Investigations for the organization. He also manages the Cruelty Investigations Department as well as the BC SPCA Call Centre.
In addition to his ongoing work at the BC SPCA, Mr. Eccles has served as a community member on the University of British Columbia's Animal Care Committee from 2005-2011. He has also been a member on the Canadian Council on Animal Care's (CCAC) assessment panels since 2003 and was the representative for one of CCAC's member organizations, the Canadian Federation of Human Societies, from 2011-2014.
A tireless advocate for animal welfare, Mr. Eccles has received the BC SPCA Stu Rammage Award twice, and was the recipient of the BC SPCA Lifetime Achievement Award in 2012.