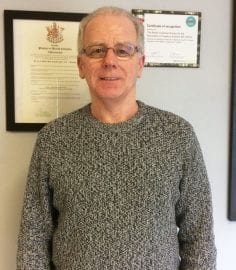 John Andrew joined the BC SPCA as Chief Financial Officer in 2004. In addition to finance, he is also responsible for information technology at the BC SPCA.
Qualified as a chartered accountant in his native Scotland, John lived and worked in Jamaica before moving to Canada in 1978. Over the course of his career, John has held positions at several multi-national and hi-tech companies in Vancouver and Toronto, culminating in roles as Controller and Chief Financial Officer.
In addition to overseeing the finances of the BC SPCA, for many years John has volunteered his time with animals. He took his skills to be the director and treasurer for an ecological society which runs a salmon hatchery in Port Moody, B.C. John is also the director and treasurer of the Animal Welfare Foundation of Canada, which gives grants to fund research, education and public outreach initiatives to improve the lives of animals in Canada.