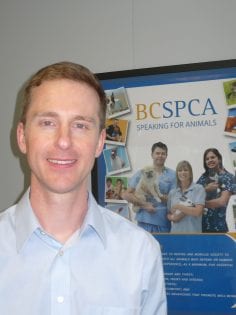 As the BC SPCA's General Manager, Strategy and Innovation, Geoff leads the BC SPCA's strategic initiatives through development and fulfillment of its strategic plan and innovative services that further the organization's vision and mission.
In every aspect of his life, Geoff is committed to drawing out the best from others. Geoff applies applied his background in Animal Welfare Science (UBC) and Dialogue and Negotiation (SFU) to facilitating agreement between diverse stakeholders at the community and international level.
Prior to his current role, Geoff led a team of advocacy professionals with diverse backgrounds to the forefront of the animal welfare movement, driving numerous policy reforms, including phase-outs of barren cages for hens and gestation stalls for pigs. In 2017, the Canadian Federation of Humane Societies (now Humane Canada) presented him with their National Award in Leadership and Innovation.