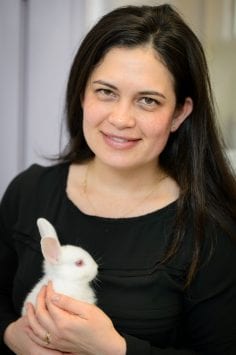 Dr. Emilia Gordon first came to the BC SPCA as a locum veterinarian in the BC SPCA Animal Hospital and volunteer veterinarian at Charlie's Pet Food Bank Free Clinic in 2011. In 2014, she joined the BC SPCA team as Manager, Animal Health and currently serves as Senior Manager, Animal Health.
Her primary role is to provide animal health support, training, and oversight to all sheltering branches province-wide, including creating and maintaining population-level shelter medicine protocols based on the latest scientific research. Her areas of focus include infectious disease prevention and management, animal management to optimize health, facility housing design, and sanitation. Dr. Gordon also maintains a clinical caseload of public, shelter, and cruelty cases in the BC SPCA Animal Hospital; assists in building relationships with community veterinarians; provides animal health support and information to all BC SPCA departments; participates in community partnerships and outreach; and manages the popular Animal Welfare Rotation for senior veterinary students from all over the world.
Dr. Gordon volunteers on Canadian Veterinary Medical Association – Society of BC Veterinarians Chapter Animal Welfare Committee and the Advisory Panel to the Association of Shelter Veterinarians Board of Directors.
Prior to moving to Vancouver in late 2010, she worked as Medical Director of the Berkeley-East Bay Humane Society in Berkeley, CA. She served as President of the American Association of Human-Animal Bond Veterinarians from 2012-2014 and spent seven years on the Advisory Committee for Veterinary Street Outreach Services in San Francisco. Dr. Gordon also served on the College of Veterinarians of BC Animal Welfare Committee from 2014-2017.
Dr. Gordon graduated from Stanford University with honours in Biological Sciences in 2000, obtained a California Registered Veterinary Technician license in 2001 and graduated from veterinary school at the University of California, Davis in 2005. In 2016, she completed a yearlong Graduate Certificate in Shelter Medicine from the University of Florida.