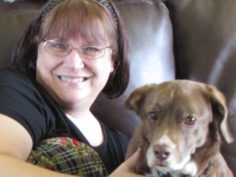 Lindsay Curry has loved dogs since before she could walk and talk, and as she grew up, that love has expanded to include all animals. She first joined the BC SPCA in 2002 as a humane educator, believing that change comes through education.
In the years since, Lindsay has had the opportunity to act in many different roles for the Society, including as adoption counsellor, dog assessor, and canine behaviour consultant. She has also chaired numerous committees, been the Foster Orientation and Training Coordinator, and served on the Community Council for over ten years, including eight as Chair.
Lindsay has fostered animals, organized and worked on countless fundraisers, and coordinated and written for her local Branch's newsletter.  She has acted as an advocate for animal welfare, including before her City Council, and loves to write and to speak in public about animal-related issues.
Lindsay is trained as a lawyer and is currently a freelance writer. She has extensive experience working with non-profits and has spent years developing skills in fundraising, communications, governance, and event planning. She is excited to be part of the Board of Directors for the BC SPCA as the Regional Director for the Thompson/Okanagan/Kootenay Region. She looks forward to continuing to pursue her passion for animal welfare at this level within the Society and to represent her Region at the Board table.
Until October of 2018, Lindsay shared her life with her heart dog, Dannan, who was a three-legged hound-spaniel mix that she fostered in 2005 for the Kamloops and District Branch of the BC SPCA; he stole her heart and was her most precious companion until his passing. She will adopt a new companion once her heart heals from his loss.