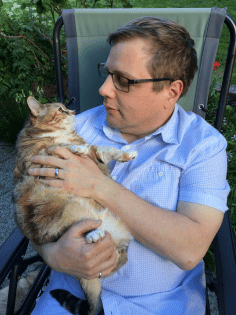 Originally from Southern Ontario, Jason moved to Vancouver in 2000 to work in BC's emerging renewable energy sector. Growing up in a rural town, animal companionship and welfare have been a consistent theme in Jason's life. His childhood home was always filled with rescued dogs and cats and he volunteered with the World Wildlife Federation during his high school years.
Jason became a volunteer with the BC SPCA shortly after arriving in BC. He was recruited to the Vancouver / Burnaby Community Council in 2012, serving as Chair in 2014 and 2015. Jason was elected to the Board of Directors in 2016 as a Regional Director and he serves on the Executive Committee, Governance Committee, and the Finance & Audit Committee.
Jason is Professional Engineer with experience in project management, renewable energy, sustainability, and supply management. Jason originally moved to BC to work with Ballard Power Systems in manufacturing engineering and supplier development. Leveraging his experience in renewable energy, Jason then co-founded a solar energy start-up firm that successfully developed a proprietary residential solar system. Jason joined ICBC in 2007 and is currently a Manager in Strategic Sourcing.
Jason and his wife Erika live in North Vancouver with their cat Josie and their two dogs, Hamlet and Babette.