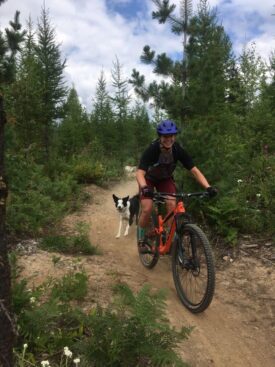 In 2016, Emmy Blouin joined the BC SPCA as a member of the North Cariboo Community Council, becoming Chair less than a year later. Growing up with dogs, cats, hamsters, and fish and maintaining a strong affinity to animals throughout her life, so it was natural to be part of the animal welfare community group.
Originally hailing from Alberta, Emmy moved to Prince George in 2013 to work for the 2015 Canada Winter Games Host Society after playing volleyball for a decade in the USA and several European countries, attaining her BSc, Recreation Management & Policy and MSc, International Sport Management along the way.
Emmy joined the Board of Directors in 2020 as a Regional Director of the North & Cariboo, fully understanding the nuances of the diverse region, and is proud to be one of the representatives. In addition to her years involved with North Cariboo CC, she brings experience in community development, philanthropy, event planning, project management, and strategic partnerships. She remains as a member of the North Cariboo Community Council.
Emmy and her husband reside in Prince George with their border collie, Stitch, embracing the northern BC lifestyle of mountain biking, paddle boarding, nordic skiing, bike touring, snowboarding and anything else that gets them outside!