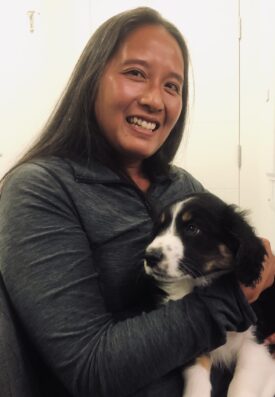 Diane joined the BC SPCA Board of Directors in 2021 as a Regional Director of the Lower Mainland, Fraser Valley & Sunshine Coast region, bringing more than nine years of broad-based legal experience to the Board, including experience in risk assessment, corporate governance, contract negotiation and business financing.
Currently the Vice-President, Legal at D-Wave Systems Inc., Diane is central in the identification and resolution of legal issues related to all aspects of D-Wave's day-to-day operations, working closely with the executive team on certain strategic business decisions and ensuring a proper governance of the company.
Diane is a member of the bars of Quebec and British Columbia and is a registered trademark agent. She also holds a Master's degree in Business Law from the University of Montreal.
In her spare time, she likes to spend time in nature, hiking and scuba diving, where she developed her great interest in nature and animal conservation. Originally from Quebec, Diane moved to Vancouver in 2017 and is very excited to explore the countless stunning mountains, forests and lakes that BC wilderness has to offer.