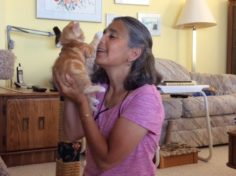 Sabrina has been involved as a volunteer in the animal welfare field for over 35 years. She served on the volunteer Board of Directors of the SPCA in Fort McMurray, Alberta for fifteen years while working as an Administrative Assistant in a busy high school office. As Treasurer, she was responsible for all book-keeping and financial transactions for the society and participated in all fundraising activities.
After moving to southern Alberta, she began volunteering at a privately run rescue facility as an animal care attendant for several years before becoming a staff member at the facility.
In 2007, Sabrina moved to Parksville, BC and became involved with the local BC SPCA branch as a cat socializer. She was recruited to join the Community Council in 2008 as Volunteer Coordinator and served in that role for 10 years. Sabrina has been a co-organizer of many of the branch's fund raising activities including the Paws for a Cause Walk to End Animal Cruelty and the bi-annual book sales. She has served as newsletter editor, cat volunteer coordinator and has assisted with daily routines at the shelter as needed. From 2011-2015, she served as the Community Council Chair. Sabrina was also a member of the Community Council Task Forces of 2011 and 2015.
Sabrina is currently serving in her second term as a Regional Director from the Vancouver Island, Gulf Islands and Powell River region. She continues to serve on the Parksville-Qualicum Beach Community Council as the Recording Secretary. She and her husband share their home with Gizmo and Boo, their two BC SPCA feline adoptees.