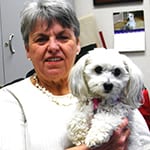 Rosolynn has resided in Fort St. John, BC for the past 47 years and has been a member, volunteer and staff person with the BC SPCA North Peace Branch for 36 of those years.  Born in Victoria and raised in Edmonton, she is proud to call Fort St. John home primarily because of the friendliness of the community and the beauty of the region.
She has had a lifelong interest in animal welfare and began volunteering with the Edmonton SPCA (now the Edmonton Humane Society) during junior high school. That interest continued during her time at the University of Alberta where she coordinated a pet visitation program at several care homes in the Edmonton area. After marrying and moving to Fort St. John, it only seemed natural to join the local branch of the BC SPCA. In 1983, once her two children began school, she jumped right in.
There was no shelter facility in Fort St. John at that time so, before long, Rosolynn began caring for cats at home in her garage. She estimates that she and her family provided care for almost 2,200 cats and kittens until the shelter in Fort St. John was built in 1995. More than a couple of those cats became family members. The longest lived was Fritz who came into care as a kitten and lived with the family for 24 more years.
In addition to housing and rehoming cats for 12 years, Rosolynn has acted as fundraiser, volunteer Branch Manager (19 years), volunteer inspector, Special Provincial Constable (16 years), Community Council member and chair as well as a participant on previous provincial committees. Of particular interest was her time spent as SPCA liaison for the First Nations communities of the Treaty 8 territory in northeastern BC.
Through the years, she has also volunteered and served on the boards of the Fort St. John Literacy Society, CNIB, North Peace Justice Society, the Child Development Centre, Scouts Canada, Girl Guides of Canada, Northern Dance Theatre Society, Fort St. John and District Chamber of Commerce, Association for Community Living and the Fort St. John Arts Council.
Rosolynn and her husband Fred have owned and operated an oilfield transportation company for many years. She has also been employed for 35 years as a contract manager with both the federal and provincial governments developing projects around the province that encourage activities to improve employment prospects for unemployed individuals.
After retiring as branch manager in 2014, Rosolynn continued to volunteer for the North Peace SPCA and, in 2015, joined the Board of Directors as Regional Director for the North. She is proud of the BC SPCA and its achievements in support of the humane treatment of animals. She is eager to serve the province at large as a member of the board and to bring forward issues affecting the northern branches she represents as Regional Director including 100 Mile House, Williams Lake, Prince George, Prince Rupert, Haida Gwaii, Fort St. John and Dawson Creek.
When not volunteering for the SPCA, Rosolynn and Maddy (her fur baby) like riding around on her Honda, camping, reading and travelling to see family and friends.