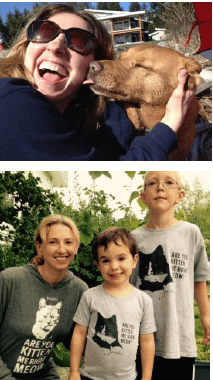 Like many people, Roselyn has spent life with domestic animals as part of her family since childhood. Her family's animal companions came to them in a number of ways, from adopted strays, their cat Ole who lost his caregiver and the BC SPCA.
In 2006 Roselyn moved to Powell River and as her job had her working from home, volunteering was the perfect way to meet like-minded people and become involved in her new community.  She joined the BC SPCA's Powell River Community Council at a time when there was no physical location or shelter in the region; everything from fostering to adopting to fundraising was all handled by volunteers. Through the efforts of donors, members, and volunteers, a community branch was finally built in 2013 and it was shortly after that she accepted the position of Community Council Chair for the location.
In 2015 Roselyn attended her second BC SPCA AGM, which coincided with hosting that year's Canadian Federation of Humane Societies Conference. At that conference she attended a number of seminars, heard several dedicated speakers, and met numerous individuals who were dedicating their lives to animal welfare across Canada in ways that were making real differences to how people in our society treat and view other animals. It made her realize she could be part of something bigger, something that made a real difference. At that moment, Roselyn recommitted herself to the cause of animal welfare with a greater sense of determination and obligation.
As Community Council Chair for the Powell River & District branch, she refocused the CC's involvement in governance, in addition to supporting humane education and community outreach at events throughout the year, involvement in key fundraising initiatives, and the relaunch of the branch newsletter.  She was also an active participant of the BC SPCA's Vancouver Island and Powell River Regional Council, and in early 2017 accepted the position of Regional Council Chair.
With her increased involvement in governance and the important role it plays in the society, Roselyn found herself building relationships with other CC Chairs and Directors, establishing common ground while also learning some of the challenges faced by our CCs, branches, and animal welfare efforts.  As a result, Roselyn ran for a Director at Large position with the BC SPCA Board of Directors and was elected to the position in 2018 for a three year term.
In addition to being a Director on the Board, Roselyn is also a member of the Board Development Committee, and looks forward to working with board members and community council members to help ensure a robust board of directors to help navigate the BC SPCA into the future for the benefit of animals in our province.