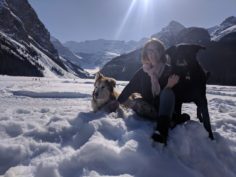 Mary Lou (ML) Troman is a lifetime member of the BC SPCA. She is honoured to have served neglected, abused and vulnerable animals for almost 25 years at her local Nelson Branch and on the Board of Directors.
Mary Lou is exceedingly passionate about enhancing the quality of life for domestic, farm and wild animals and in particular, ensuring their protection from cruelty.
Originally serving on the Board of Directors for 10 years starting in the late 1990's, Mary Lou worked in partnership with the CEO and the Board as President for three of those years to help guide the Society on an intensive journey through one of the most difficult periods in the Society's history. There was so much to be done on behalf of neglected, abused and abandoned animals and too few resources. Mary Lou is intensely proud of her small role in helping lead the Society through that period on a path to the strong, resilient, internationally-admired organization it is today. During that period, Mary Lou served on or chaired the Executive Committee, the Governance Committee, the Finance and Audit Committee and as an ex officio on all other Board Committees.
Returning to the Board recently after a seven year hiatus, Mary Lou currently chairs the Board Development Committee. Mary Lou has now participated in three strategic planning processes for the Society and is gratified to see the growth and development of the organization over the years.
As a Regional Director of the Thompson/Okanagan/Kootenay region, Mary Lou works to highlight the unique challenges of the region and tries to ensure a rural and remote voice is heard in the deliberations of the Board to ensure those concerns are heard in the decision-making process.
Mary Lou sadly lost one of her two adored canine companions, both of which are former guests of the BC SPCA. Bogey was a Malamute cross from the Burnaby branch who loved the winters in his new home in the Kootenays. Koda is a foster fail from the Quesnel and West Kootenay Branches who was found abandoned at five weeks old on a logging road near Vanderhoof with his two siblings. Mary Lou affectionately calls him a cross between odd and weird and is eternally grateful that the Drive for Lives initiative helped him find her.
Her business life helps inform her work on the Board of Directors. Mary Lou is the Chief Operating Officer or Chief Strategist and Troublemaker at Blendable, an innovative employee benefits and solutions provider. With a national team extending from Abbotsford to PEI, she is responsible for all aspects of the operation including finance, sales and marketing, managing strategic partnerships, HR, operations, and a multi-million dollar web and mobile application development program.