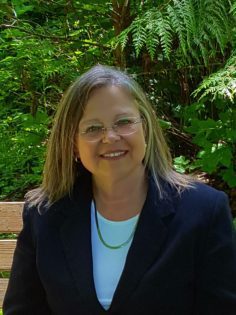 Louise is a first term Board member and was elected in 2016 as a Regional Director for Vancouver Island, Salt Spring Island, and Powell River.  In her first year on the Board, she co-chaired the Governance Committee.  Louise is a volunteer dog walker at the Victoria Branch, and a past Community Council Chair.  She has volunteered for many Branch events, such as Paws for a Cause, Off-leashed Gala, Coats and Crate sales and organized a very successful book sale in 2015.
Louise is a professional engineer, with a graduate degree in Chemical Engineering.  Louise has worked in both the private and public sector, and is currently a consulting engineer specializing in recreational and drinking water projects.  Her leadership with multi-disciplinary committees, stakeholder consultations, and public/industry education provides Louise with a depth of resources and skills readily transferable to supporting the mission of the SPCA.
Initially drawn to the Society for its work with companion animals, Louise embraces the values of the Society in its efforts to improve the welfare of all animals throughout BC, and its significant leadership in this sector.  Louise is honoured to be working among dedicated staff, volunteers and other Board members.
Louise lives in Victoria with family, and their dog Tobias adopted from the Victoria Branch.  In their spare time, Louise and Tobias can be found at Gyro Beach visiting with two and four legged friends.