It is otterly possible that there is something cuter than two bewhiskered, guileless and oh-so-adorable baby otters – but what that might be is anyone's guess.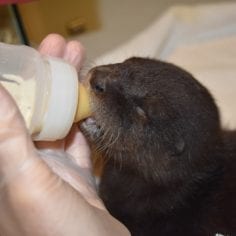 Although Wild ARC does not name the more than 3,000 wildlife patients they treat annually, their two distinct personalities can easily be told apart by staff and the locations where these orphans were found have become their nicknames in care: Lady and Cowby, for Ladysmith and Cowichan Bay. So young their eyes weren't even open yet, Lady was orphaned after her mom was chased by a dog and dropped her, while Cowby was found covered with more than one hundred ticks after his mom was scared off.
"They're growing quickly – their eyes are open now and they're starting to each solid food and explore their temporary habitat together," says BC SPCA chief scientific officer Dr. Sara Dubois.
"For the first time, we're inviting the public to participate in a campaign that will not only help the wild patients in care at the BC SPCA's Wild Animal Rehabilitation Centre (ARC), but will give donors the chance to be there when we release Lady and Cowby back into the wild next spring, when they're old enough."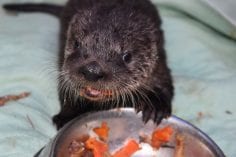 Wild ARC, located on Vancouver Island, does not allow public visitors, as their wild patients require extremely specialized care so that they can be released back into the wild without becoming habituated to humans. The chance to be there when the pair are released back into the wild is a rare and unique experience, Dubois notes, adding she is hoping animal lovers embrace the campaign enthusiastically.
"When you give $50 or more, you'll be automatically entered into a contest to join me and Wild ARC staff next spring when we release Lady and Cowby. For full rules on entering, check out the website," she says.
"It's a win-win for animal lovers – your generous donations go toward helping the thousands of animals Wild ARC takes in each year and you get the chance to be a part of an experience you won't be able to find anywhere else."
Visit spca.bc.ca/orphanotters to participate in the campaign for updates on Lady's and Cowby's progress – and to view adorable photos of the otters as they grow and learn.