Do you want to make a difference for animals in your community?
The BC SPCA's Victoria Branch invites all interested animal lovers to attend the branch's annual general meeting on Tuesday, Feb. 20 at 5:30 p.m. at the Victoria SPCA shelter, 3150 Napier Lane.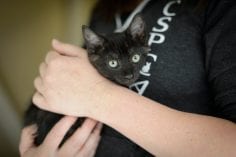 Learn more about the BC SPCA's life-saving work to help the community's most vulnerable animals and find out how you can get involved, either working directly with the animals or by offering other skills, such as administrative support, help with fundraising and public events, advocacy on local animal issues and other activities that support the work of the branch.
Last year, the Victoria SPCA helped nearly 1,500 abused, neglected, abandoned and injured animals.
For more information, please contact the Victoria SPCA Branch at 250.388.7722.