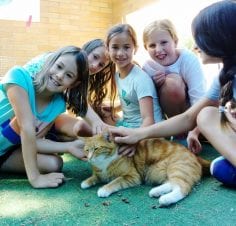 Know any kids looking for something fun to do this spring break? The BC SPCA has the answer.
Spring break camps will be held at multiple BC SPCA locations, including Vancouver, Surrey, Maple Ridge, Nanaimo, Victoria and Cowichan (Duncan).
These week-long camps give participants the chance to learn about pet care, wildlife and issues that affect animals, as well get a behind-the-scenes tour and some hands-on time with suitable animals at the shelter.
"Spring break is a great opportunity for kids to try something new and have fun learning about a subject that really interests them," says Paula Neuman, BC SPCA humane education manager.
Neuman adds that, like other BC SPCA humane education programs, camps aim to teach kids about animals in fun ways while building empathy and encouraging the next leaders in animal welfare. "We find that a full week at camp really allows our participants to immerse themselves in the world of animals and discover issues they can be passionate about."
Full details about spring break camps, including dates, times, age ranges, cost and how to register, can be found at spca.bc.ca/camp.