After eight successful weeks of summer camps, with a record total of 1627 campers at 21 locations, BC SPCA summer camp season is complete for another year. The next event opportunity for young animal lovers at the BC SPCA will be Pro-D Day workshops beginning in October.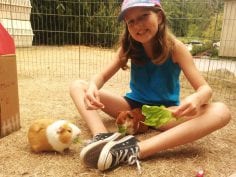 Summer campers aged six to 11 received valuable education on animal welfare and gained hands on experience interacting with animals at the shelter. "The children were able to learn all about animals ranging from companions to farm, wild, and even exotic animals," says Alex Kelsch, BC SPCA humane education coordinator for the Lower Mainland. "During animal time, campers practiced their compassion by meeting and socializing with dogs, cats, guinea pigs, rats, and bunnies."
Six BC SPCA locations also offered leadership camp for 12- to 14-years-olds. Leadership candidates were given opportunities to lead junior camps in different activities, crafts, and with the animals. New this year at some locations, leadership campers participated in a culminating advocacy project, where campers chose and researched an animal welfare topic important to them. By the end of the week, they set up a booth outside the shelter, sharing information and successfully advocating to members of their community. "I was very impressed with the work the leadership campers did this year," says Kelsch. "I hope this experience will help them build the skills to speak out for what is important to them, and gives them ideas for future projects as they continue their education."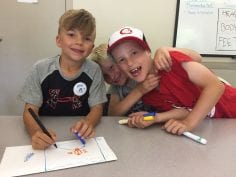 Every single child who attended summer camp received a complimentary BC SPCA Kids Club membership. Registration for next year's camps begins in April 2018, with discounts available for members. Until then, children will have opportunities to attend Pro-D Day workshops and spring break camps during the school year at various locations. Details will be posted at spca.bc.ca/camp as available. As these events can fill up quickly, parents can sign up to be notified by email when registration opens in your area.