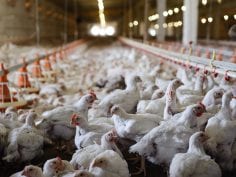 There are many labels on eggs, meat and dairy products, and they can all be very confusing. But when it comes to chicken and eggs, "free range" and "free run" are particularly confusing labels for consumers to decode.
When it comes to buying eggs, "free run" and "free range" can be meaningful labels to look for. After all, no one likes to think of chickens living in tiny cages. But in Canada, when it comes to buying chicken, the reality is that all chickens raised for meat (called 'broiler chickens') are cage-free. Yes, you read that correctly. Broiler chickens are never kept in cages. Therefore, they are all "free run" unless they get to go outside, in which case they are considered "free range" (though this is less common than free run).
Buyer beware!
What labels do you look for in the grocery store when you're buying eggs and poultry? Are you being intentionally mislead when you see the term "free run" on chicken? Are stores taking advantage of your good intentions to buy humanely raised meat and eggs?
Get the answer to these questions and the full story on the "free run chicken myth" in our next issue of FarmSense e-newsletter — delivered to your inbox December 13, 2017, and quarterly thereafter. We decode misleading and confusing food labels to help you become a more informed shopper.
Subscribe to FarmSense now to stay informed: