Phone:
(250) 368-5910
Emergency phone:
(250) 368-5910 (During operating hours) After hours: contact your local police or RCMP
Address:
7700 BC-3B Trail BC V1R 4X2 CA
Services offered:
Shelter, Takes surrendered animals, Adoptions, City animal control, Takes in stray dogs, Takes in stray cats, Takes in stray domestic small pets
Email:
trail@spca.bc.ca
Please note, due to the volume of emails received daily we may not be able to respond immediately. Should you need urgent assistance, please call.
Serving the following communities:
West Kootenays.
Hours of operation:
N

Tuesday to Saturday:

12 to 4:30 p.m.

Sunday and Monday:

Closed

Stat Holidays:

Closed
Adoption fees*
Dog adoption fees
Adult dog: $249
Small breed adult dog: $349
Mature dog (over 8 years): $124.50
Puppy (under 6 months): $349
Small breed puppy (under 6 months): $449
Cat adoption fees
Adult cat: $130
Mature cat (over 8 years): $65
Kitten (under 6 months): $155
Small pet adoption fees
Rabbit: $105
Guinea pig: $15
Rat: $10
Mouse/Hamster/Gerbil: $5
*Fees subject to change without notice. All BC SPCA cat/kitten/dog/puppy/rabbit adoptions include a microchip and lifetime registration with the BC Pet Registry. Registration for lifetime protection is $45 for cats/kittens/dogs/puppies and $11.25 for rabbits, which will be added to the above adoption fee. For more information please visit bcpetregistry.ca.

Welcome to the BC SPCA Trail Regional Branch. We are one of 44 BC SPCA locations across the province serving sick, neglected, abused and homeless animals. Whether you are looking to adopt a new furry friend into your family or would like to know more about how you can make difference for animals in our community, we are here to help. The BC SPCA is a not-for-profit organization which relies primarily on community donations to help animals in need. Please join us in the fight against animal cruelty!
Search adoptable animals available through our location.
Help build West Kootenay's new Community Animal Centre
Adopt Me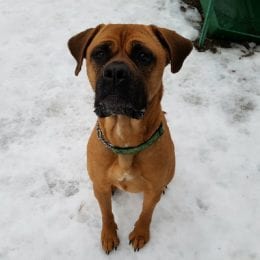 Charley is a young playful girl that just wants love and attention. With a bit of obedience training she will make a fantastic companion to an active family. We highly recommend regular exercise and a consistent routine to help with some minor anxiety. Charley appears to be good with most dogs when properly introduced but cats seem to be a fun thing to chase when they run so we will need to do some specific matching for the right home. If she sounds like the dog for you, come in and meet her or call 250-368-5910
Name:
Charley
Age:
2 Years
Gender:
Female
Animal ID:
451944
Breed:
Mastiff Boxer
Upcoming events
26th February 2018: National Cupcake Day
National Cupcake Day™ is a coordinated Canadian event to support local shelters, SPCAs, and Humane Societies. The campaign has raised $2.45 million in critically needed funds for abused, abandoned and neglected animals in our communities!
Learn More
14th October 2017: BC SPCA Trail Regional – Art Bark
Please join us at the annual Art Bark dinner with live and silent auction on Saturday, October 14th at the Nineteenth in Castlegar.  This will be a fun evening of entertainment and fine food with animal lovers and art enthusiasts alike. Get Tickets The menu at Art Bark will include vegetarian dishes such as butternut …
Continue reading "BC SPCA Trail Regional – Art Bark"
Learn More